Andrew Motion, the English poet who joined the Writing Seminars as a Homewood Professor of the Arts in fall 2015, says he looks forward to discovering what his writing might look and sound like after exposing his ear and mind to American culture and speech. He's already proved himself one of the more versatile authors and critics of English poetry. Motion began publishing his works in the early 1970s, wrote a few collections of critical essays in the 1980s, and by the 1990s was writing celebrated biographies of poets, including Philip Larkin: A Writer's Life, published in 1993, and Keats, published in 1997.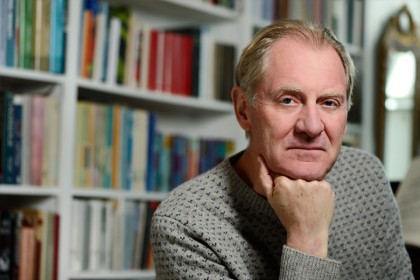 Motion was named the poet laureate of the United Kingdom in 1999 after the death of Ted Hughes; he occupied the post for a decade, and during that time he partnered with sound engineer Richard Carrington to create The Poetry Archive, an impressive online library of English-language poets reading their works, and educational tools for the teaching and studying of poetry. Motion can be heard reading his own verse at his Poetry Archive's author page.
After retiring from the poet laureate position in 2009—he was knighted that year for his services to literature at the Queen's Birthday Honors—Motion took his writing into new territories. In 2012, he published both The Customs House, a reflective, impressionistic collection of war poetry; and Silver, a swashbuckling sequel of sorts to Robert Louis Stevenson's Treasure Island, picking up about three decades after the adventure of that late-19th-century novel. This year has seen the release of The New World, a page-turning follow-up to Silver involving its two main characters, and Peace Talks, an arresting new poetry collection.
He says the decision to come to the United States was a strategic one. "I was offered a fantastic job with very good students and very nice colleagues, one of whom I knew, [Writing Seminars co-chair] Mary Jo Salter, who made me feel like this was going to be a happy home," Motion says. "I thought, too, that if I understood the job right, it might leave me more time to do my own work than I've ever had before. And at 63, that's the sort of thing that you start to mind about. I'm not quite an old man yet, but I'm not a young man anymore either, and I've seen too many people freeze and diminish in the last third of their lives. I thought to give myself new challenges, new opportunities, new faces, new ways of thinking about things, and to open myself up to the great, strange Niagara roar of American poetry, would be a pretty interesting thing to do."