I didn't get a job right after college, at least not the kind my oversized Johns Hopkins diploma suggested I would. Goalless and burnt out as graduation approached, I applied for a part-time internship at a magazine, moved to Brooklyn, and bounced around from temp gig to temp gig. Then, after a few months, fate intervened—while perusing job listings on Craigslist one day, I spotted an ad for an open call at a popular retail chain in Manhattan.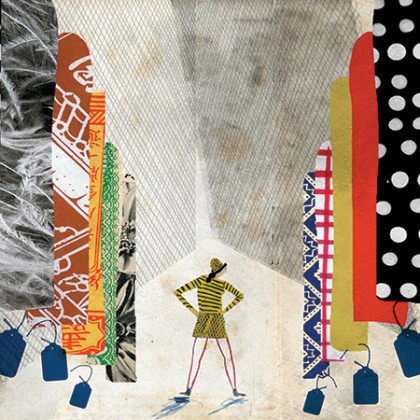 I donned my finest spandex, stood on line outside a store at 10 a.m. one summer morning, and got hired on the spot.
It became the best job I'll ever have. Here, there were no tests to study for, no deadlines, no books to read or skim sufficiently to fool the T.A. There were no windowless libraries or cubicles on B-level. There was no need to think. Instead, there were sweaters to fold, skirts to hang, $8 pairs of underwear that needed their tags tucked in. Middle-aged women bought yoga pants two sizes too small, returning a week later to scream at me about the refund policy. "Me and my daughter wouldn't have bought these leotards if we knew we couldn't bring them back," a woman barked at me one afternoon. I apologized, offered store credit, and corrected her in my head. My daughter and I.
My co-workers were hip boys who played in bands in Brooklyn. They were models, artists, and photographers. No one talked about "the future." The future meant nothing more than getting paid and going home.
My college friends complained about their demanding corporate jobs, but my only job requirement was to look cute in chiffon. They talked about how lonely it was in the "real world," but I stayed out until 4 a.m. on Wednesday nights with my new friends.
The love didn't last. I didn't want a "real" job, but I began to fear I'd never get one. My future seemed chained to a cash register. I started to fall behind the friends who were made miserable by their burgeoning careers. I stayed a child while they got approved for credit cards, went on vacation, and stopped having night sweats over their dwindling bank accounts. It was safe behind the register, but I knew I couldn't stay there.
I got lucky. I started picking up regular freelance writing jobs. I managed to bid farewell to retail. Three years later, I still make sure all my shirts are folded with even hems.
I miss the small power I wielded in my domain behind the register. It was the best job I've ever had. But I'd never, ever want to have it again.