Since moving to Baltimore in 1997, Wendel Patrick has built a local and national reputation for his richly nuanced and literate hip-hop performances and production, moving from jazzy and soulful one moment to melodic and lyrical the next. And Peabody Conservatory's choice to teach its first-ever hip-hop class thinks he knows how to work with students who might be more familiar with Krzysztof Penderecki than Public Enemy. "Music students grasp the technical aspects of what hip-hop producers do more quickly than somebody who has no musical experience," Patrick says. "At the end of the day, regardless of what genre of music you're talking about, you're dealing with rhythm, pitch, and the manipulation of those things. I think it's fair to say that any conservatory student has been fiddling with rhythm and pitch for a really long time."
He would know. Wendel Patrick is the alter ego of Kevin Gift, who started studying classical piano at the age of 4 in Venezuela. His music education continued, including a year at the Peabody Preparatory when he was 7, through an Emory University undergraduate degree and a piano performance master's from Northwestern University. In Baltimore, he has taught and performed classical music alongside his hip-hop career, but rarely have the two overlapped.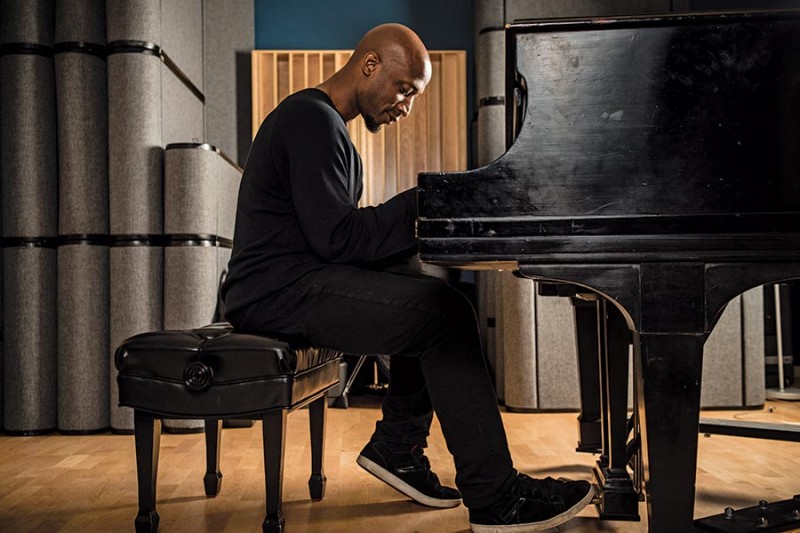 As he became better known as Wendel Patrick, his piano students started to ask him about hip-hop, but he'd never had the chance to think about teaching it in a conservatory. "I've been wondering how can I make this class cohesive and coherent so that it makes sense to somebody who has either limited or, potentially, no experience with hip-hop, but who also has a tremendous amount of music knowledge in general," he says, adding that the class is a chance for him to create a serious music setting for studying "something that I've had a tremendous love for over the majority of my life."
The fall 2016 composition class, Hip Hop Music Production: History and Practice, came about when Peabody undergrad Louna Dekker-Vargas asked David Smooke, Peab '95 (MM), a member of the conservatory's Composition faculty, why Peabody didn't have a hip-hop class. Smooke reached out to Patrick, and then applied for a 2015–16 Dean's Incentive Grant to support the course, which was approved. Patrick spent the summer finalizing a syllabus and assignments for its inaugural offering.
The class covers hip-hop's cultural context and development as a DIY art form in the South Bronx in the 1970s up through its contemporary omnipresence as one of pop music's dominant forms. This historical approach allows Patrick to talk about hip-hop's core elements—which include dancing, rapping, graffiti writing, and DJing—while spotlighting innovative producers, what made their sounds stand out, and the equipment they used. Lectures will focus on key producers—such as early pioneer Marley Marl, underground experimenter J Dilla, and Hank Shocklee, who revolutionized hip-hop's sonic palette with his maximalist production work on Public Enemy's first four albums.
Shocklee, at Patrick's invitation, will appear as a guest lecturer, which is kind of like having heady conceptual artist David Hammons speak at your university's first art class. Other guests—spoken-word artist/producer Ursula Rucker, the Roots' producer Dice Raw, and Baltimore emcee/producer Eze Jackson—will visit the class as well, offering additional points of view about hip-hop's history and sounds. Students will be tasked with creating sounds in the style of different hip-hop eras in an effort to get them to think about using what they already understand to make something new.
Patrick knows that can be a steep learning curve for musicians in a conventional conservatory. Training in classical music can sometimes lead to discomfort with improvising and composing. That said, music students have a deep expertise that they can tap to imagine new music. Hip-hop production is "something that involves a completely different—but very related—skill from classical music," Patrick says, "so I hope to not necessarily draw connections but talk about different ways in which these two elements, pitch and rhythm, have been used to create this art form by changing the rules of composition in a slightly different manner."