André Chung ("Conservatory Hip-Hop," photography) is a photojournalist and portrait photographer working in Baltimore and D.C. Past clients include The Washington Post, NBC News, The Chronicle of Higher Education, and The Atlantic.
Christina Cooke ("Forecasting Arrhythmia") is associate editor of the food policy website Civil Eats and a freelance writer for venues including The New Yorker, The New York Times, The Atlantic.com, The Guardian, Oxford American, and High Country News. 
Saralyn Lyons ("High-Tech Theology") is an author and poet living in Baltimore. She produces web content for the Hub, Johns Hopkins University's online news source.
Eleanor Taylor ("Down[town] on the Farm," illustration) graduated from London's Royal College of Art in 2011 and has worked as a freelance illustrator for clients including The New York Times, The New Yorker, and Walker Books. She lives and works from her home by the sea in Hastings, England. 
Armando Veve ("Prescription for Addiction," illustration) is an artist working in Philadelphia. His drawings have been featured in publications including The New York Times, VICE, and The New Republic, among others.
Michael Yockel ("Man of Letters") spent 20 years as an editor and writer for weekly alternative newspapers before turning to full-time freelancing. Throughout, he has focused on pop culture, particularly music, film, and books. He is the father of twin toddler sons and serves as part-time senior editor at Baltimore STYLE magazine. 
On the cover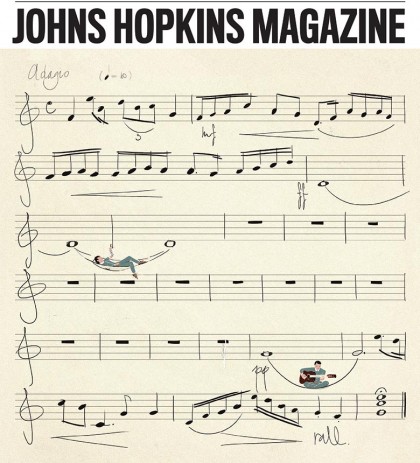 Illustrator Andrea Ucini
was uniquely qualified to tackle this issue's cover related to a feature story on treating musicians' injuries—he is a professionally trained classical pianist who has suffered the very aches and pains discussed in "Doctor Guitar." His illustration tells a story through song, he says, beginning with a strong, loud melody, followed by a period of rest, then ending with a softer, yet building, tune.