Sunil Kumar, dean of the University of Chicago Booth School of Business and a widely published expert on operations management and research, has been appointed the 15th provost and senior vice president for academic affairs at Johns Hopkins University.
"Sunil is a proven academic leader with uncompromising standards for excellence, great integrity, and a deep-seated commitment to collaboration," says university President Ronald J. Daniels. "He is a scholar and leader passionate about higher education, committed to values that align with the priorities of the Johns Hopkins Ten by Twenty strategic vision, and well-suited to be a steward and champion of this extraordinary institution."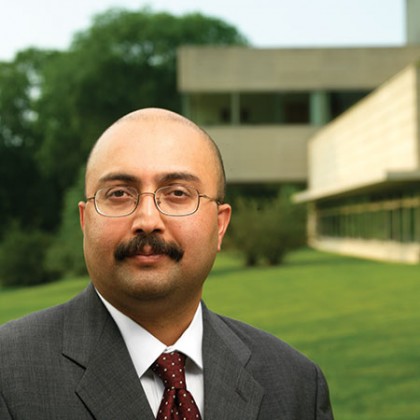 As provost, Kumar will be Johns Hopkins' chief academic officer. He will work with the president and deans on universitywide interdisciplinary collaboration, academic policy, and key priorities including diversity, student aid, and commitment to the communities surrounding Johns Hopkins' campuses.
"I look forward to helping Johns Hopkins continue to attract the best faculty and students, while strengthening a welcoming, inclusive, and scholarly environment at the university," Kumar says.
At Chicago, Kumar led a school whose faculty has won seven Nobel Prizes in economics. In five years as dean, he helped raise more than $300 million in philanthropic support; focused on student recruitment, including increasing the enrollment of women in full-time programs from 35 percent to 42 percent; and expanded courses for undergraduates. He was instrumental in establishing the newly consolidated Polsky Center for Entrepreneurship and Innovation, which helps researchers across the university translate ideas, discoveries, and new technology into products and startup companies. He also taught a course in operations research, called Dynamic Programming/Markov Decision Processes, that introduced doctoral students to mathematical models and optimization methods with applications in both business and engineering.
Born in India, Kumar graduated in 1990 from Mangalore University with a bachelor's degree in engineering. Two years later, he earned a Master of Engineering in systems science and automation from the Indian Institute of Science in Bangalore. He received a PhD in electrical and computer engineering in 1996 from the University of Illinois at Urbana-Champaign and worked for 14 years at Stanford before joining Chicago Booth.
Kumar is the first Asian-American appointed provost of Johns Hopkins. He succeeds Robert C. Lieberman, who announced in February that he would step down to return full time to teaching and research on race and inequality. He is a professor in the Department of Political Science and will be part of the university's interdisciplinary 21st Century Cities Initiative.