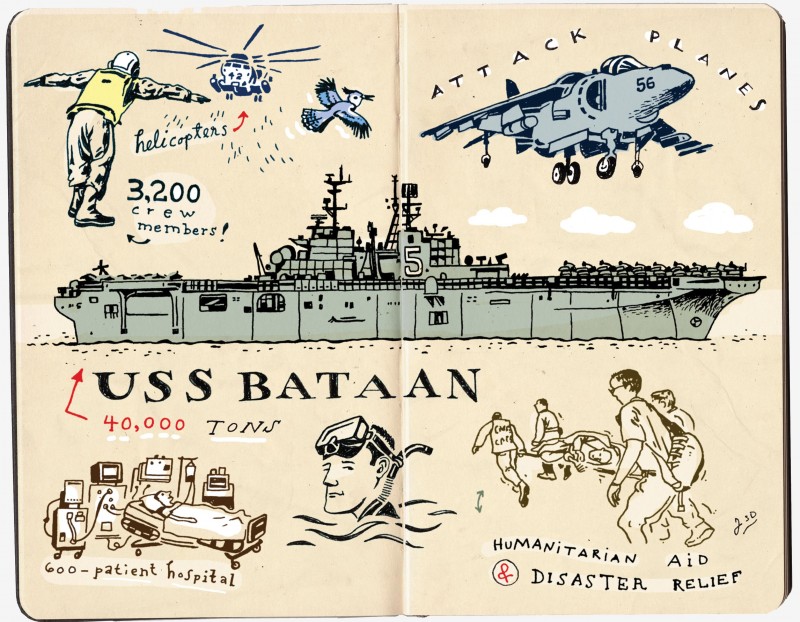 Members of the Johns Hopkins Arts, Entertainment, Media, and Entrepreneurship Affinity Group in New York City have toured museums, attended a private wine tasting, explored the intersection of technology and storytelling, and more. But in May, about 75 alumni gathered for a more unusual—and rare—event: a tour of an active-duty Navy ship.
The outing, to the USS Bataan during New York's Fleet Week celebration, was the brainchild of retired U.S. Navy Captain John DeMaggio, Engr '94 (MSE), who served on the same type of ship while on active duty. The outing was organized with help from Dory Giannos, A&S '10, one of the founding members of the NYC-based group that brings together alumni, students, and friends of the university with common interests and backgrounds. Unlike, say, a visit to New York's Intrepid, the retired aircraft carrier that's now a popular sea, air, and space museum, exploring the Bataan gave them a look at a working military vessel that's not often in port. The NYC chapter hopes to offer a similar tour next year. Here's why:
1. The Bataan is an assault ship that carries helicopters, attack planes, amphibious vehicles, missile systems, cannons, and machine guns. "It's ready to go into battle," says DeMaggio.
2. The ship is massive: 844 feet long, more than 40,000 tons, with a flight deck bigger than a football field. It's also large enough to hold 3,200 crew members and soldiers. "It blew everyone away," adds DeMaggio. "I saw people standing with their mouths open."
3. The Bataan provides disaster relief, too. In 2005, it was the first Navy ship on the scene after Hurricane Katrina made landfall, helping with search and rescue efforts in Louisiana and Mississippi.
4. Alumni got to see parts of the Bataan that were off-limits to the general public, such as the 600-patient hospital. "They were able to see a lot more of what goes on," says DeMaggio. "It's a whole different world."
5. Officers and enlisted men and women were on hand to answer questions, including two sailors who attended a post-tour brunch. "I spoke to a fighter pilot," says Giannos, "and hearing about his experiences was incredible."
Find out more about JHU's alumni affinity groups.