Kurt Hammond, A&S '74, was determined to get into a band when he landed at Homewood in 1970. Music, he says, had been his saving grace in high school and he was keen to keep the groove going at Johns Hopkins. Nothing clicked until he attended an off-campus house party and heard the British Invasion roaring from the kitchen. The music came from guitarist Milt Reder, A&S '73, Med '78, and a classmate named Jimmy Owens.
In that moment, says Hammond, "I knew these dudes were for me."
Nearly 50 years later, they still are—in particular Reder, with whom Hammond founded the band Ocean Rose, considered one of the best combos to come out of JHU. Reder, almost never without his guitar on campus, wrote or co-wrote many of the band's songs, the work heavily influenced by the gods of the epoch: the slide guitar of Duane Allman, the Fab Four, the Grateful Dead, and the Band. "I like to tell people that I majored in guitar at Hopkins only to find out after four years that they didn't offer a guitar major," Hammond says.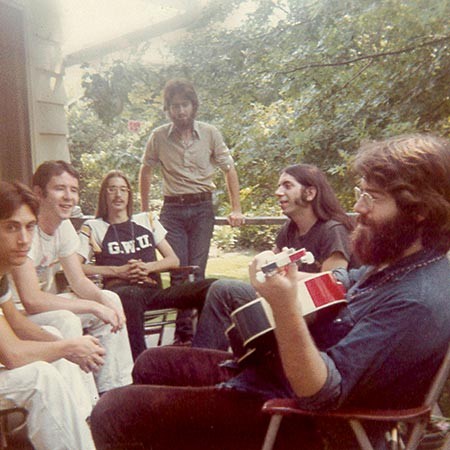 There were near constant rehearsals to prepare for gigs, from turns as campus rock stars to the ignominy of holding down the "teen room" at the legendary Concord Resort Hotel in the Catskills for two weeks. The summer of the Watergate hearings, the band hit the road for a tour in Boston and New York, a "most fraught" journey, says Reder, beginning with getting fired on Long Island for refusing to play "Smoke on the Water," by Deep Purple.
Today, Reder practices medicine in Boston between gigs, at times with a Grateful Dead cover band fronted by Owens. Hammond, who has managed hardware stores over the years, gives guitar lessons and plays throughout the Baltimore metropolitan area. They last played on Homewood campus at the 2010 Alumni Weekend.
Reder spent 15 years with Barrence Whitfield & the Savages, and Hammond has long been in demand by country, soul, and R&B bands. But it's hard to top the exhilaration of their undergraduate days when Ocean Rose was a big deal on North Charles Street. It was a time, says Hammond, "of the joyful mayhem of bacchanals in the Great Hall and spontaneously setting up to play in Dunning Park."
How best to rekindle the remembrance of things past? By delivering gems like "Wooly Bully," the late Ralph Stanley's "Man of Constant Sorrow," and blues by B.B. King. On a trip to Massachusetts earlier this year, Hammond sat in at Reder's weekly gig at a local pub in Brookline. "It was remarkable how little we had diverged over the years," said Reder. "As friends, we seem to always be able to pick up where we left off."