I heard a voice in my head when a DVD on the discount shelf at Target caught my eye. "You're not gonna mess this up, are you?" it asked.
That was the last thing the studio exec said to my writing partner and me before we walked in to pitch DreamWorks CEO Jeffrey Katzenberg our take on his "David and Goliath in the ocean" idea that was to become Shark Tale. Katzenberg, maybe the smartest exec we'd ever met, seemed to really like our pitch, especially the vegetarian shark we created named Lenny in a nod to Of Mice and Men. We didn't realize at the time that Pixar was working on its own animated fish movie called Finding Nemo, which also happened to feature a vegetarian shark—but we'd soon learn life is full of little ironies.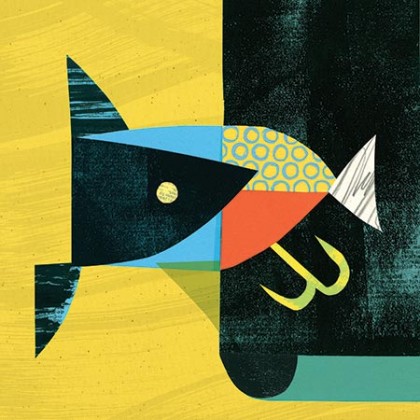 "I don't want the fish too anthropomorphic," Katzenberg told us at the end of the meeting. He must have noticed my blank stare. "No fish smoking cigars, you know?" I nodded.
Three weeks later, our agent called to tell us we had landed a dream job. We poured everything we had into that script, writing for months and even watching on VHS every episode of NOVA they sent us for research. (Little did we know, Pixar sent their writers to scuba dive at the Great Barrier Reef.) We were really happy with the way it turned out, and more than a year later, when the studio announced the cast, we were incredulous. Will Smith, Jack Black, Angelina Jolie, Robert De Niro, Renée Zellweger, on and on. It seemed almost impossible that these people we'd long admired were going to say our words.
Then we got another call from our agent, this time with news of a different sort. The script had been rewritten; our names wouldn't even go on the credits. It happens to every Hollywood writer at some point in his or her career, but you never forget the agony of your first time. And, I've learned, if you survive in the film industry long enough, you'll live to be the rewriter.
Watching the movie was an out-of-body experience. What ended up in theaters was similar to what we pitched (Hey, there's the fake fight with Lenny!), but then again, it was unrecognizable (Wait, is this a spoof of Mafia movies now?). When the jellyfish started playing an Xbox, I knew we were a long way from "No fish smoking cigars."
As I inspected the DVD packaging back in Target, I heard another voice coming from behind me.
"You should get it, it's really good." It was a little boy, not much older than my youngest.
"Yeah? Who's your favorite character, Lenny?"
"No, he's weird."
I handed him Finding Nemo. "Here. This one's better."