When Bryan McMillan, Bus '00, '02 (MBA), became chair of the Alumni Council's Student Engagement Committee in 2014, he had a question for students: How could alumni help them while they were still in school? One student said he'd simply like to meet an alum over coffee and ask questions about what the college experience was like for him.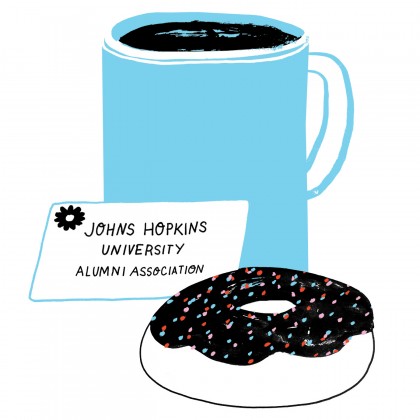 McMillan, a managing partner of M&L Global Consultancy, a business development firm in Columbia, Maryland, ran with the idea. "I know I would have benefited greatly from having the ability to speak with an alum to help provide some insight into the school and what I could expect in my academic career," McMillan says. "I thought it would also be a terrific means to get alumni to reconnect with the university while helping new students at the same time."
So this past September, all 5,500 incoming students across the university's nine academic divisions received a travel mug as a welcome gift from the Alumni Association. Inside was a card containing information about the association as well as JHU Connect, the university's online alumni directory and networking site.
The program marked a significant strategy shift for the alumni group. "Focusing on students when they enter the university is a new direction for us," says Susan deMuth, executive director of Alumni Relations. "The premise is that if we reach out to students when they first come to Hopkins, it is easier and more natural for them to engage with us when they graduate. They know who the Alumni Association is and the opportunities and resources that it has to offer."
Encouraging more meaningful alumni-student connections is the overarching aim of the Student Engagement Committee, which comprises student representatives from each of the university's divisions. "A lot of what students want is for alums just to be available, to take the call," says committee member and senior engineering student Monica Rex, who has already landed a post-graduation job after an alum helped her secure an internship last summer.
This fall, McMillan hopes to expand the coffee talk program by including an alum's business card (matched to the recipient's field of study) in each mug. The committee is also working with university Career Services to establish a network of professionals who can help students with career counseling, informational interviews, internships, or employment. A new networking website is in the works.
For now, McMillan says he hopes other alums will be willing to help out by mentoring a student—or simply talking over coffee. "There's nothing more exciting for an alum than to be surrounded by students with energy," he says. "It brings us all back to what we were excited about when we were students."
To participate, mail your business card to: Johns Hopkins University Office of Alumni Relations, Attn. Susan deMuth San Martin Center, Second Floor 3400 N. Charles Street Baltimore, MD 21218-2696