Every year in April, a group of students holds an event called Study Break in front of the Brody Learning Commons on the Homewood campus. Students nosh on snacks and relax with massages, but they also learn about how donor funding supports the Sheridan Libraries and its vast collection of more than 3.7 million books, 171,000 print and e-journals, and 900,000 e-books. "Did you know that the Brody Learning Commons is funded almost entirely through private philanthropy?" reads a post advertising the event on the Facebook page for Step Up, the student-led group that plans Study Break.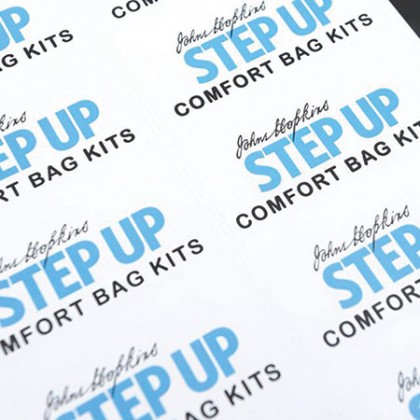 Founded in 2009, Step Up's overall mission "is to promote the idea that Hopkins wouldn't be what it is today without philanthropy and alumni giving," says Nicole Aronson, a senior public health major and a Step Up co-chair. In the past, Step Up had restricted its activities to one packed week in April, called Step Up Week. But in fall 2014, the group started adding to its calendar month-ly events that educate students about philanthropy in "fun and fresh" ways, such as through Insta-gram and trivia contests. While most of these events have drawn an average of 200 students, a cou-ple of them, such as Kickoff, hosted more than 750 attendees.
"Creating a culture of philanthropy is something that is necessary when students are undergrad-uates, rather than waiting until they are alums, then suddenly expecting them to be philanthropic," says Shaun Grahe, associate director for Student & Young Alumni Programs. If students understand how philanthropy has shaped their experience at Hopkins, then "hopefully when they're in a place to be philanthropic as alums, they'll take advantage of that."
Students also participate in philanthropy themselves. "Most people, when they think philanthropy, they think money," Grahe says. Step Up "highlights the fact that it's not only money; it's giving your time." During Step Up Week's annual Smoothies for Service & Totes for Tots event, for example, students fill bags with toothbrushes, shampoo, and crossword puzzles, among other things, for children who are being treated at the Johns Hopkins Children's Center and their families. They also drink smoothies to celebrate the number of community service hours they collectively logged the previous year, such as the 97,405 hours that undergraduates contributed in 2013–14.
Step Up's most popular event is Thankful Thursday, which has been a staple of Step Up Week since the group's inception. Students grab Chipotle burritos and write letters to young alumni do-nors thanking them for supporting Johns Hopkins. "[The event] is really instilling this idea that in order for Hopkins to sustain its legacy and its reputation, alumni are an integral part of doing that," Aronson says.