From Jeff and Shari Aronson's perspective as volunteer leaders at Johns Hopkins University, bringing SAIS and the Krieger School of Arts and Sciences together in closer collaboration would enhance both schools' capacities to develop new solutions for world problems and train new generations of global experts.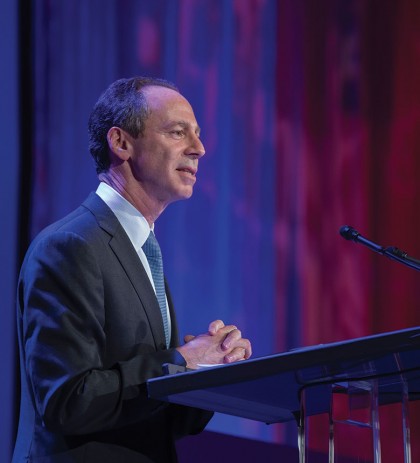 All that was missing was a structure to encourage that collaboration. So they established the $10 million Aronson Center for International Studies.
"At the faculty level, the Aronson Center will bring together a greater variety of experts to collaborate on thorny problems in international studies and make the world a more just and peaceful place," says Jeff Aronson, A&S '80, chair of the university's board of trustees. "At the student level, the center will provide even greater opportunities for young people to learn from and work with the very best thinkers—and doers—in the field."
At present, the primary connection between the two schools is that Krieger international studies majors have the option to pursue a five-year BA/MA degree through SAIS. The Aronson gift will provide three components to greatly increase collaboration between the two schools. First, the Aronson Distinguished Professorship will support a highly regarded scholar to guide cross-disciplinary efforts, oversee appropriate projects at both schools, and pursue an academic focus on topics related to the Middle East.
The second component, the Aronson Professorship, will support an expert in international relations and comparative politics, international economics and social development, or conflict resolution, who will partner with the distinguished professor to develop innovative approaches to international relations. Both new Aronson Center professors will teach one undergraduate course per semester.
Finally, the Aronson Center Endowed Fund will provide money for things like experiential learning trips, symposia, shared scholarly projects, and other endeavors that benefit undergraduates.