Under the umbrella of the university's 21st Century Cities Initiative, researchers have launched a set of projects examining Baltimore in relation to the unrest following Freddie Gray's death. "We're trying to reimagine what a research university can do in the face of a crisis like this," says Kathryn Edin, a sociologist in the Krieger School of Arts and Sciences who was recently named director of the initiative.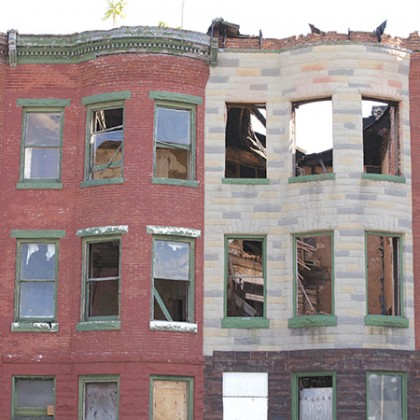 Known in shorthand as 21CC, the initiative started last winter as a reboot of the former Institute of the American City. The interdisciplinary effort aims to look broadly at revitalizing American cities such as Pittsburgh, Detroit, and Chicago, Edin says, applying both local and global solutions. Recent events "have sharpened our focus on Baltimore," Edin says. "Even though the events were extraordinarily tragic, we are incredibly fortunate to be in the position to deploy our skills in this way."
The new research will not be of the slow-burning variety that's often seen in academia, but a "rapid response" that should produce tangible results by this summer in the form of papers and briefs. Dozens of student and faculty researchers are involved— and more are needed—for eight designated projects.
"Team Scanner" is looking at scans of police channels in Baltimore from late April, focusing on calls reporting officers in distress. "Team School" will investigate the dynamics at Frederick Douglass High School, which was thrust into the spotlight because of its central location amid the riots and the activity of some of its students. "Team CGE" (referencing the Center for Government Excellence) will assist other teams in gathering information on the Mondawmin Mall transportation hub, assessing the significance of disruptions to bus service there two weeks ago. And "Team Social Media" will examine Twitter activity surrounding the call to "purge" that reportedly played a role in inciting violence. (The term alludes to the 2013 horror movie The Purge, where all crime is legal for one day.)
One project will involve "old-fashioned ethnographic research" at Mondawmin Mall and surrounding areas. "We'll send field workers to have informal interactions and in-depth conversations with kids," Edin says. "How are these kids feeling about how they've been portrayed in the media? How are things changing on the ground?" Two other projects will examine housing issues in Baltimore. The goal, Edin says, is "to figure out how to stem the blight and create neighborhood conditions more conducive to well-being and health." Finally, another study will look at families living in extreme poverty in Baltimore, using surveys and interviews "to capture the texture of the lives of these folks—how they survive economically, and how kids' health and development may be affected," Edin says. She notes that 15 undergraduate interns at Johns Hopkins have already been hired to assist with the research.