Leisurely shopping trips are ideal times to practice negotiating, says Valerie O'Malley, A&S '10. "Ask for something more so that when you get to those really defining moments in your career, you're ready for it," she explains.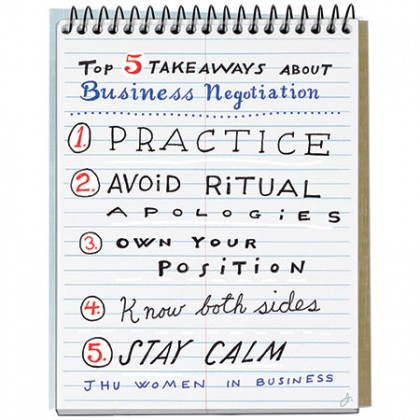 O'Malley, an assistant marketing manager with L'Oréal, picked up that tidbit along with other hard-bargaining strategies from the Women in Business affinity group's October business negotiation event in New York. The event came just a few months after a similar event by the city's Law affinity group, which focused on creating win-win deals for all parties involved in negotiations.
O'Malley says she put her newfound knowledge to work last fall at Bloomingdale's. Having missed the store's sale because of Yom Kippur, she asked a sales associate if she could still get the deal. After an initial "No," O'Malley was friendly but firm. She held her ground and got the discount. In part because she had practiced negotiating and being more assertive, she says she was more confident going into her year-end review, where she asked her boss what she had to do to get promoted in early 2015. O'Malley was persistent until she learned specific actions that could get her to the next level.
From Stacey Lee, the workshop's presenter and an assistant professor at Carey Business School, O'Malley also learned that women negotiate differently than men. Women tend to apologize for even minor mistakes that aren't their fault, which "makes us look weaker," O'Malley says. Instead, she now actively tries not to automatically say she's sorry. Also, when asking for something such as a raise, women often go into too much detail right away instead of waiting for a response. A better idea: "Put your position out there, own it, and shut up," O'Malley says.
When taking a confident stance, researching the other side helps, says Ana Zampino, A&S '01, president of the Johns Hopkins Alumni New York Chapter and a board member of New York's Law affinity group (as well as its Women in Business group), which held its business negotiation event in April. Zampino, a general practitioner at a law firm, uses her real estate clients as an example. Before making an offer on a house, condo, or co-op, she studies the market to get an idea of what price would be a good deal for her clients while also satisfying the seller. Then, in negotiation, Zampino stays calm. "People who raise their voices don't tend to get what they want," she says.