What was once just a tailgate and lacrosse game now encompasses more than 130 events, and overall attendance at Johns Hopkins University's Alumni Weekend has never been higher. The 2015 event, held in April, brought back close to 6,500 alumni and guests for two days of dinners, lacrosse, lectures, and reunions. In the last five years, attendance has increased a whopping 37 percent, with more young alumni and families attending than ever before.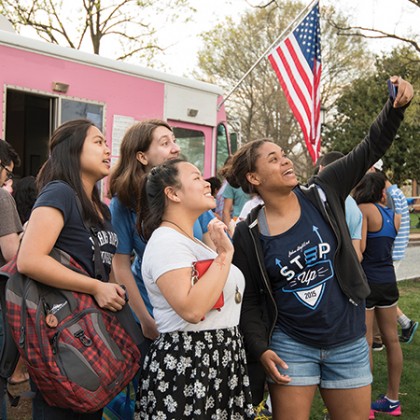 Pat Conklin, senior associate director of reunion and home­coming, attributes the jump to improved outreach. Social media posts and contests like Fantasy Reunion (a spinoff on Fantasy Football, where players are encouraged to get people in their class to register) generate buzz and excitement, but nothing compares to receiving a personal invite from a former class member or planning committee member. "It's the law of multiplication," Conklin says. If 20 alumni reach out to five friends each, that's 100 new alumni on the radar; momentum continues to build as more alumni are contacted. "I could reach out," Conklin says, "but I'm not their classmate or friend. Personalization and excitement from classmates are what get people back on campus."
This approach worked for Mindy Farber, A&S '74, a Rockville, Maryland–based attorney who chaired her 40-year class reunion in 2014, a record-breaker for largest class reunion participation in gift giving and in attendance. Her class was a historic one—the first coed class at Johns Hopkins, with the largest number of African-American students to date. Fifty-eight alumni joined Farber's planning committee, encouraging their friends and classmates to come back, give back, and celebrate their part in such a historic time for the university. "Once we said that, people felt proud to have graduated that year," Farber says. "It brought back a lot of pride and nostalgia. Our reunion was like no other."
Next year's event promises to be another one for the books. Forever favorites like the lacrosse game and crab cake luncheon are on, plus a few newer events to the overall weekend like the Hullabalooza dance party, an a cappella concert, and a food truck event on the Beach at Homewood. Conklin and crew are working on more family-friendly events too, with plans in the works to host a family robotics contest and the Blue Jay Birthday Bash.
"There's nothing like that feeling of walking back on Homewood campus and seeing the faces of families and individuals connecting and having fun," Conklin says. For information on the upcoming Alumni Weekend, set for April 8–10, 2016, click here.