J.J. Reidy is a farmer in search of a roof. He came to the Carey Business School two years ago to learn how to bring to market his concept for vertical hydroponic rooftop farms—a system of vertical columns in which plants grow not in soil but in nutrient solutions. Reidy believes such farms could produce 300,000 pounds or more of greens and herbs for Baltimore each year, enough to feed a school system. He founded a company called Urban Pastoral and has set his sights on beginning construction of a commercial-scale urban vertical farm within a year. All he needs now is that roof.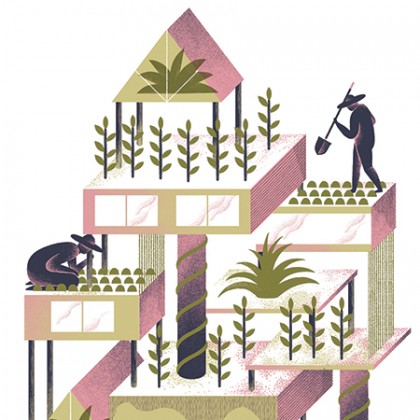 A career connecting food, agriculture, and technology was always the plan for Reidy, Bus '15. The summer before coming to Johns Hopkins, he spent about three months working on an organic farm in Vermont. He read about sustainable urban farming in places like Montreal, Vancouver, and New York City, where vertical rooftop farms used hydroponics to produce high crop yields in restricted space without generating agricultural waste such as pesticide and fertilizer runoff.
Ninety-seven percent of produce sold in Baltimore comes from outside Maryland, Reidy says, citing statistics from the U.S. Department of Agriculture and the California Department of Food and Agriculture. He believes Urban Pastoral could help the city sustainably produce more of its own food to feed its own people. "I came to Johns Hopkins knowing this is what I was meant to do—applying principles of agriculture to an urban environment," he says. And Baltimore is just the place, he believes, for rooftop farming, with its dense urban population, local demand for produce, and scores of abandoned buildings.
He needs to show that his company can execute his scheme on a small scale before building bigger facilities. So this fall, Urban Pastoral will launch a proof-of-concept project, BoxUP, a growing facility in a shipping container located on the campus of the Baltimore Food Hub, a nonprofit urban food project meant to help build the regional food economy. The greenhouse will supply produce to local restaurateurs and the food services contractor Bon Appétit, which manages some food services at the Johns Hopkins Homewood campus. The shipping container concept will use the same vertical hydroponic system as the larger- scale version, allowing Reidy and crew to push product to market, interact with locals, and start sales. "It's the general idea of demonstrating to the community the degree of impact we can create with just 320 square feet, and then saying, 'Imagine what we can do with 20,000 or 40,000 square feet.'"
In coming months, Reidy says he expects to close a land agreement with Green Street Academy, a public charter school in West Baltimore that recently renovated 145,000 square feet of space at the former Gwynns Falls Junior High School. "What's really attractive about that space is the school's focus on agriculture," he notes. The curriculum inspires students to make the world greener while preparing them for high-demand jobs in green industries. Students are already learning principles of hydroponics, aquaponics (a combination of hydroponics and fish farming), business management, and more. The new 8.75-acre property has a rain garden, chicken coop, and outdoor classrooms. Reidy plans to build a 40,000-square-foot hydroponic vertical farm, where Urban Pastoral can grow produce while teaching students about agriculture and nurturing future farmers. "Our farm would not only feed the school year-round, but we could integrate it into their agricultural technology curriculum and provide opportunities for the next generation of workforce development," Reidy says. "We are very excited by the opportunity for such a unique collaboration."