Johns Hopkins University leaders are moving the annual commencement celebration from Homewood Field to a climate-controlled venue that still allows graduates to invite as many guests as they would like.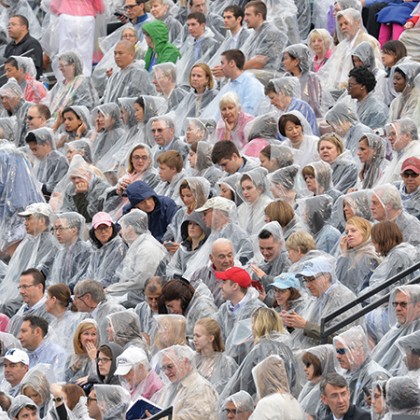 Starting with the 2016 ceremony at 4 p.m. on May 18, the universitywide commencement will be held at Baltimore's Royal Farms Arena, President Ronald J. Daniels and Provost Robert C. Lieberman announced in a message to the university community. Several divisional ceremonies will be held at the arena as well.
"Johns Hopkins' annual commencement ceremony stands as one of the highlights of our academic year, a chance to honor and celebrate the impressive accomplishments of each class of graduates," Daniels and Lieberman said in their message. "For the past 13 years, this momentous event has been held outdoors at Homewood Field, subject to weather conditions that are too often brutally hot or, as we saw this year, unseasonably cold and rainy."
Each year, organizers must consider whether unsafe weather conditions will require them to move the ceremony to ticketed indoor venues at the last minute, or even cancel it after families have traveled to Baltimore. This year's rain was unpleasant for attendees, organizers said, and high temperatures in prior years were uncomfortable for everyone—and potentially dangerous for those with health conditions.
"Our commencement team is working to ensure the unique traditions and festivities of our commencement ceremony will carry over to the arena," Daniels and Lieberman said, "and that all necessary logistics will be in place for a successful event."
The university will also invite the undergraduate Class of 2016 to help plan a new commencement celebration event on the Homewood campus.
Click here for more information on next year's commencement; details will be updated throughout the year.