The Johns Hopkins Bloomberg School of Public Health was born 100 years ago from a surprise announcement. Back on June 13, 1916—with Woodrow Wilson in the White House and World War I raging across Europe—the university held its commencement ceremonies. William Henry Welch, dean of the School of Medicine and a pathology professor, took to the stage to announce that the Rockefeller Foundation had chosen Johns Hopkins to receive a grant funding the creation of the world's first school of hygiene and public health.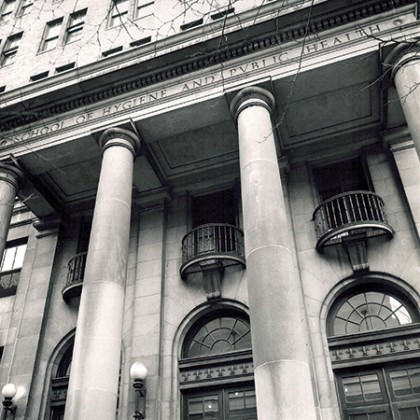 Today, the renamed Bloomberg School of Public Health is not only the oldest such institution but also the largest and most prominent, topping the U.S. News & World Report rankings of public health schools every year since the category's inception in 1994. Presently, it enrolls some 2,250 students from more than 80 countries.
In its first 100 years, the school helped eradicate smallpox, make water safe to drink, improve child survival through better nutrition, reduce the spread of HIV, and uncover the dangers of tobacco smoke. The school's mission is distilled thusly: Protecting Health, Saving Lives—Millions at a Time.
"As the first independent graduate school of public health, our faculty, staff, and alumni have been at the vanguard of public health efforts," says Michael J. Klag, dean of the school. "We've had an incredible impact. The work that goes on in the Bloomberg School's labs, classrooms, and field sites around the world each day is awe-inspiring. The cumulative impact of a century of such dedication is incredible. This coming year, we're looking forward to recognizing and celebrating what a remarkable institution this is."
The school is celebrating its centennial with a year of festivities, including exhibits, alumni dinners, and a finale birthday bash. Click here for more information.