It's noisy and dusty up on the second floor of 10 E. North Avenue. The century-old building is about a mile south of the Johns Hopkins Homewood campus, and its sleek (if somewhat battered) facade dates to the 1939 opening of the erstwhile Centre Theatre here. The three-story structure between Charles and St. Paul streets had begun life as a garage for Packards and Studebakers and in the late 1950s was ignobly carved up into banking offices. Then came vacancy and decay.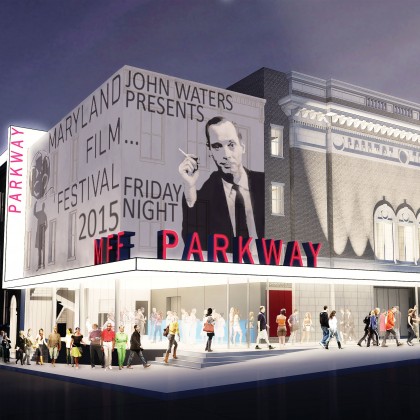 On this fall afternoon, power tools roar away as construction workers repurpose it for its latest role: a film and audio facility to be co-managed by Johns Hopkins and the Maryland Institute College of Art. There's really not much to see within the bare brick walls at present, but come next fall, this is where Johns Hopkins and MICA students will gather to think about the artistic pairing of sights and sounds. Johns Hopkins and MICA are sharing the $10 million cost for an initial 10-year lease of the roughly 25,000-square-foot second floor and a build-out to include recording studio, soundstage, screening rooms, editing suites, and classrooms. The collaboration—between the Krieger School, Peabody, and MICA—is to be known as the Johns Hopkins–MICA Film Center.
From windows in the building's southwest corner (glassless at this point) you can see the Parkway Theatre a block away. This long-neglected 1915 movie palace is slated for a $17 million renovation into a three-screen, 600-seat film center by the Maryland Film Festival. Johns Hopkins recently received a $5 million gift from the Stavros Niarchos Foundation to be used for the theater, which will also have facilities for Hopkins and MICA film students, and the schools will be able to do some programming within. The Centre and Parkway theaters are in the Station North Arts and Entertainment District, a roughly 20-block chunk of midtown where state tax breaks and other incentives have already brought changes to an area long scarred by vacancy. Since the area's arts designation in 2002, boards have come off windows and lights turned back on in galleries, performance venues, and arts-oriented restaurants and cafes.
Investing in the district aligns with the Homewood Community Partners Initiative, a collaborative effort with area stakeholders and civic leaders that the university launched two years ago to improve conditions within 10 neighborhoods near Homewood. Johns Hopkins has pledged $10 million—and the partnership has raised an additional $14 million—to support activities and projects that strengthen the 10 communities.
Andrew Frank, special adviser to Johns Hopkins President Ronald J. Daniels on economic development matters, says the university is committed to supporting Station North in multiple ways. One, he says, is the big ticket: "The university is collaborating with MICA to create a small campus for Hopkins that's about halfway between Peabody and Homewood to try and connect them through a strong spine up Charles Street."