The reasons Eileen Tumulty, the daughter of a pair of Irish immigrants living in Queens in the 1950s, is so driven to improve her lot in life are obvious from the first pages of the unsentimental debut novel We Are Not Ourselves (Simon & Schuster, 2014), by Matthew Thomas, A&S '01 (MA). The schoolgirl Eileen watches her father hold court in the bar only to clam up at home, the silence between him and her mother preferable to the chaos that erupts when he is whiskey drunk. When her mother joins him in alcoholism, Eileen observes that she "drank harder than her father ever had, as though she were trying to make up for lost time."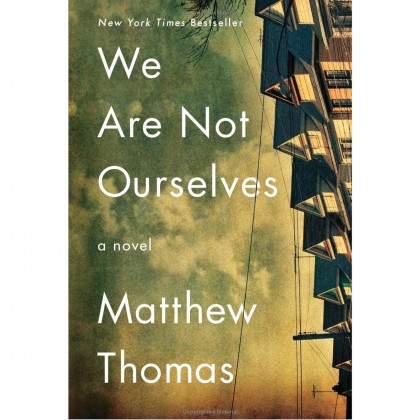 Ourselves follows the tenacious Eileen from her hardscrabble youth through her nursing education and into her marriage to Ed Leary, another striving working-class Irish-American, and on through the birth of their son Connell and Ed's harrowing dimming from early-onset Alzheimer's. It's a sweepingly intimate novel, mapping the everyday moments of life's highs and lows across a borough, city, and country rapidly changing over the course of the 60 years the novel captures. That closely observed human story has earned the book deserved attention—longlisted for The Guardian's First Book award; effusive reviews in The New York Times, Washington Post, Entertainment Weekly; its film rights optioned by producer Scott Rudin (Moneyball, The Social Network)—
but the novel is also an intoxicating read. Phrases often achieve a bonsai-tree emotive elegance: as a younger woman Eileen daydreamed of marrying an upstanding man with a non-Irish name that conveyed comfort, "one of those decorous placeholders that suggested an unbroken line of WASP restraint."
This class awareness coursing through the veins of Eileen's life is what makes Ourselves so moving. It quietly captures that mix of dreams, work, and love ordinary people invest in with hopes of giving their children a better tomorrow. Toward the end Eileen attends a Mets game alone, getting so wrapped up in her memories of what the game meant to Ed that the outcome doesn't mean anything but everything. The same could be said of Eileen. Hers is but one of millions of late-20th-century, first-generation American stories, but in Thomas' empathetic telling of it nothing matters more.