Stainless steel rings jutting from the ground, pebbles in the sidewalk, and stone medallions etched with water-related graphics are all part of Optical Gardens, Baltimore's newest work of public art, on the east side of Charles Street between 33rd and 34th streets. The linear plaza and sculpture were created as part of the $25 million reconstruction of Charles Street between 25th Street and University Parkway, the front door to Johns Hopkins' Homewood campus. The art park was created on city-owned land and funded under Baltimore's One Percent for Art program, which requires that at least 1 percent of the eligible budget of any public works project be reserved for public art.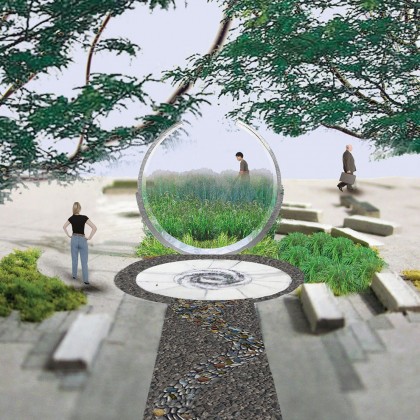 With references to everything
 from astronomers seeking life-bearing exoplanets to geologists searching for underground streams, it's art that was inspired by the community outside its gates. Knowing that people will pass through the park over many seasons, even years, the artists strove to create a place that would reward repeated viewings. "It's not a simple piece that you are meant to understand all at once," says Tom Drugan of Haddad/Drugan, the team that designed the art park. "The meaning reveals itself over time."
Their inspirations included natural features like the Wyman Park Dell and Stony Run, the colorful row houses along St. Paul and Calvert streets, and the proximity of the Space Telescope Science Institute, which operates NASA's Hubble Space Telescope. They were also intrigued by the work of two late Johns Hopkins professors: Abel Wolman, known for his efforts to standardize methods used to chlorinate drinking water in cities; and his son, M. Gordon "Reds" Wolman, a geomorphologist and expert on river science, water resources management, and environmental education.
Optical Gardens is the first work in Baltimore designed by Seattle-based artists Drugan and Laura Haddad. The $254,000 commission is one of the largest and most expensive works of public art in Baltimore's history.