Newlyweds Jessica Kensky, Nurs '09, and Patrick Downes found themselves in the unluckiest of places on April 15, 2013—cheering on runners at the finish line of the Boston Marathon. The couple suffered severe injuries, including the loss of their left legs, in the bombing. Unwilling to let the tragedy tarnish marathon day forever, Kensky and Downes were at the finish line together again one year later, this time riding side by side on hand bikes through the 26-mile course.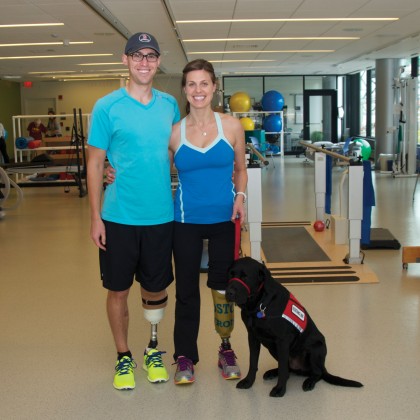 "The emotional part of the day was seeing people cheering on the sidelines, doing exactly what we were doing the year before," she says, "knowing that they would go home with their friends and families and their bodies intact."
But that wasn't the only difficult part of the day. "Being a disabled athlete is extremely challenging," Jessica says. "You have to overcome a number of obstacles before you even get to your race or training. I'm proud of us for facing that day head-on."
Also see: Her decision, their life (The Boston Globe)
Keep your classmates informed with a submission to alumni notes. Submit your information via email to: classnotes@jhu.edu. (Due to production deadlines, your information may not appear for an issue or two. By submitting a class note, you agree that Johns Hopkins can publish your note in the print and online edition.)