Beer and music have a long, frequently symbiotic, history. Yet despite having once played in a punk band and studied music composition at Johns Hopkins, Paul Kopchinski, Peab '98, says it was family heritage that drove him to open De Kleine Duivel, a Belgian beer hall in Baltimore. "My mom's side of the family is Flemish, from northern Belgium," says Kopchinski. "I still have family that lives in Antwerp that I go back to see and visit. For me, Belgian beer has always just been beer."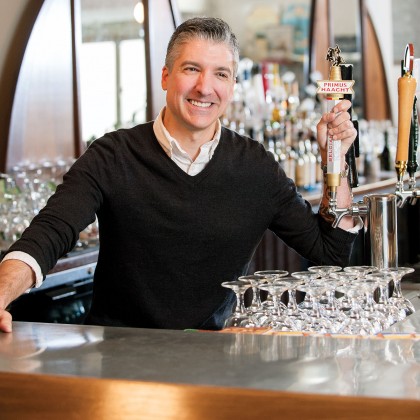 De Kleine Duivel, which translates to 'the little devil,' opened in December 2013 in the old meeting hall for the Improved Order of Red Men in the hip Hampden neighborhood. Kopchinski gutted the hall and added an exquisite Art Nouveau mirror made of Peruvian and American walnut with matching bar. The bar serves roughly 200 kinds of Belgian beer, from traditional lambics to stouts more commonly associated with Great Britain. Kopchinski chuckles when asked to pick the beer he likes best.
"That's like asking me, 'What's your favorite song?'"
Keep your classmates informed with a submission to alumni notes. Submit your information via email to: classnotes@jhu.edu. (Due to production deadlines, your information may not appear for an issue or two. By submitting a class note, you agree that Johns Hopkins can publish your note in the print and online edition.)