Johns Hopkins fall sports teams have had so many superlative seasons over the last few years, they've created an expectation of perennial success. The 2014 fall Blue Jays did not just meet the standard—they blew right through it to set new benchmarks.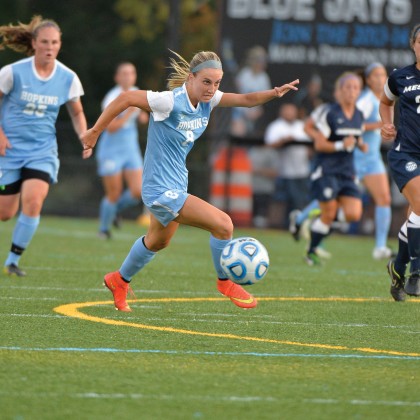 The two-time defending national champion women's cross-country team is now the three-time defending national champion. The Jays placed four runners in the top 30 as they raced past second-place MIT for the national crown. Junior Sophia Meehan was the best finisher as she sped to sixth place; her sister, Tess, a sophomore, placed 24th.
Women's soccer rolled into the NCAA Final Four for the first time in school history with a tense 1-0 victory over Thomas More College in the national quarterfinals. The Jays entered the tournament ranked 20th in the nation; at press time they had eliminated 9th-ranked Thomas More and sixth-ranked Carnegie Mellon. They were scheduled to play fifth-ranked Williams College in the semifinal match.
After securing its 10th Centennial Conference championship in the last 12 years, football won its first-round NCAA playoff game, defeating Rowan University, 24-16. Hopkins entered the national championship tourney undefeated for the third time in the last four seasons. Their average margin of victory in the regular season was 26 points, with their only close game a 27-20 win over Susquehanna. At press time, the Blue Jays were set to play undefeated Hobart in the second round.
And though tennis is considered a spring sport, sophomore Ashnaa Rao delivered a spectacular result when she won the USTA/ITA national small college singles championship. She became the first Hopkins tennis player, male or female, to win a USTA/ ITA national crown.
In other fall sports, men's cross country placed second in the Centennial Conference. Men's soccer compiled a winning 9-7-2 record, and field hockey finished 10-9 and made it to the semifinals of the conference championship.