They have planned a guided tour of the Museum of Modern Art, hosted a panel discussion on the ways social media technologies are changing modern storytelling, organized a talk about the history of the Polaroid camera, and participated in a 3-D printer workshop. They are the committee members of the Johns Hopkins Arts, Entertainment, Media, and Entrepreneurship Affinity group in New York. Launched in 2012, with fledgling outposts now getting off the ground in Baltimore and Los Angeles, the group has interests that are as sprawling as its name, which most just abbreviate to AEME.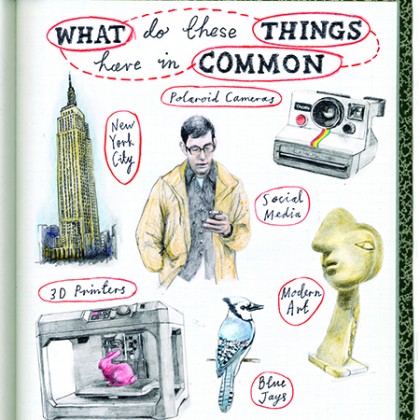 Like all the university's affinity groups, it is designed to bring together alumni with common interests for networking and learning. The group grew out of an intersession program that sent students to New York to attend a panel discussion with alumni working in the arts. While other affinity groups, such as those for law, finance, government, and aerospace, are more siloed in their focus, AEME casts a broad net. And that's by design.
"While it is a big tent, I think it's a strength, particularly here in New York," says Song Hia, A&S '05, one of the group's organizers who has worked at an ad agency and is now a product specialist for a tech startup. "All of these industries influence each other and there is an interesting cross-pollination among media, technology, business, and the arts. It has really been a personally rewarding place for me to make new friends and get inspired."
Another of the New York group's organizers, Efrem Epstein, A&S '90, personifies these overlapping industries. He runs his own public relations firm, serves as the communications officer for a financial startup, and is the executive director of a nonprofit he launched.
"The group is not limited to people who majored in social sciences or humanities," he says. "What someone's major was is not even a first point of conversation that comes up. Also, you have a lot of people that have deviated from what they initially started doing."
People like group organizer Peggy O'Reilly-Korte, Peab '63, a former music teacher at the Peabody Preparatory who runs a communications firm specializing in science and medicine. The group keeps her connected to other alumni with both a passion for the arts and for seeing things differently. "What is so much fun about this group," she says, "is that it attracts people who think creatively and are able to generate fresh event ideas."