Nearly two miles above sea level, Rosemary Mahoney is given pragmatic advice on how to know where she is: "When we feel the ground coming different under our feet, we know where we find ourselves." At that moment, Mahoney, A&S '85 (MA), is blindfolded and being led around Lhasa, Tibet, by two blind teenage girls, Yangchen and Choden. When Mahoney asks Yangchen how she knows it's cloudy outside, you can almost hear the implied "duh" in the young woman's tone: "I do not feel the sun on my nose."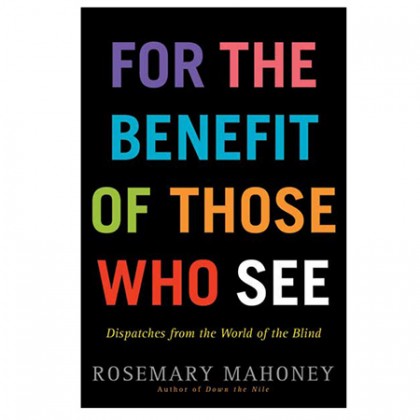 A travel writer fond of solitary excursions to unusual and sometimes remote places, Mahoney drinks in landscapes and people and turns them into page-turning meditations on the self and herself. The above scene comes from For the Benefit of Those Who See (Little, Brown, 2014), Mahoney's latest adventure, for which she tries to rob herself of her most trusted tool: sight.
The resulting book is a compassionate realization that seeing isn't the only path to knowing. The book is informed by two teaching stints, one at Braille Without Borders, a training center for the blind in Lhasa in 2005; the other at its sister facility, the International Institute for Social Enterprise in Trivandrum, India, in 2009. Both were started by German social worker Sabriye Tenberken, who lost her sight at 13, and her Dutch partner Paul Kronenberg. A magazine assignment initially brought Mahoney to Lhasa, and her first encounter with Tenberken establishes the book's rhythms: The blind woman runs errands around the city with the writer in tow, and the sighted one requires the guide.
For the entire book, Mahoney tries to understand sightless reality, and she does it with such blunt tenderness that it lends her writing a shambolic glee. Though she alludes to secondary sources—philosophical considerations of blindness, medical accounts of sight being restored to blind patients—it's her experiences that make Benefit so thoughtful. In her introduction she confesses that she once considered blindness worse than death; later, she admires the self-possession of her blind students and speculates that they have a fundamental connection to the world that she doesn't. In between, For the Benefit of Those Who See documents what happens when a well-trained observer begins to hear, smell, and touch the world as individually as she sees it.