You don't have to be a professional chef or a wine expert to prepare a succulent meal from scratch and select a nice bottle of vino to complement it. However, it doesn't hurt to get some tips from the pros now and then—especially when the tips are straight from the chefs at The Culinary Institute of America (CIA) and from classical radio station WBJC's program director and wine enthusiast Jonathan Palevsky, Peab '86. A group of Johns Hopkins alumni and friends who attended last May's Alumni College, Food and Wine in the Hudson Valley, uncorked some principles from the pros to elevate their wining and dining to a whole new level.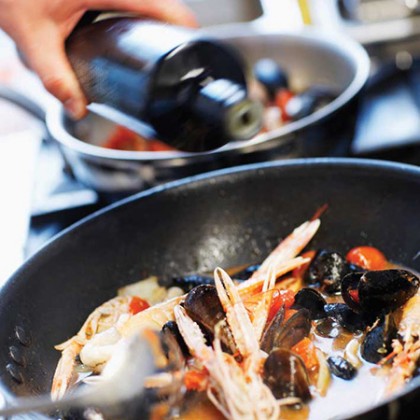 Inside the historic CIA in Hyde Park, New York—considered one of the world's premier culinary colleges—our intrepid alumni foodies, dressed in white aprons and JHU baseball caps, were transformed into professional chefs for the afternoon. With the guidance of CIA chef-instructors and students from the college, the group separated into 10 teams and prepared everything from pot stickers and pizza to roast rack of lamb and risotto primavera. "We cooked like fiends," Palevsky says. "Our team made unbelievable grilled rib-eye steak, asparagus with hollandaise sauce, and a molten chocolate cake. Our chef was fabulous, the sort of guy that you would want to go to war with; a really good leader who confidently guided us through preparing large amounts of food in a short period of time. But there was carnage."
"I learned that I don't need to be afraid of ingredients, whether it's herbs, olive oil, or even salt," said Ben Lee, A&S '93, SPH '96, Med '99. Lee, an academic neonatologist, attended the trip along with his wife, Julia Koo, Peab '02, a professional violinist. "At home, I am hesitant at times to take chances in the kitchen, but being here with a chef at my side gave me the confidence to cook outside the box and know that the dish will still work out," Lee says.
On day two of the food and wine exploration, the group enjoyed a tour and tasting at nearby Millbrook Vineyards & Winery where Palevsky shared his philosophy that it doesn't matter what critics like in a wine, you have to find what you like and what works for you. Several alumni on the trip agreed with that idea, and as avid cooks, wanted some tips on pairing wines with food. Typically big wines parallel with big foods, according to Palevsky. For example, if you are serving a huge, smokey steak off the grill, choose a big, bold wine like a California cabernet sauvignon. The acid in the wine will stand up to the fat in the food. But, if you just don't like cabernets, it's not the pairing for you. "At the end of the day, people need to come to wine on their own terms and realize that their own ideas are legitimate and valid," he says. In other words, confidence—both in the kitchen and in the wine cellar—is key.
The Alumni College and Alumni Journeys program is designed to create a community of shared exploration. To learn more, go to alumni.jhu.edu/travel or call 1-800-JHU-JHU1.