Lizzie Skurnick remembers not only the hometown store that started her book collection, but the specific shelves at Book Junction in Englewood, New Jersey, that she sought out when she was a kid in the 1970s and 1980s: the bottom two in a section of the store's back right corner. That's where she found the young adult novels that captivated her. "That's where I found M.E. Kerr," she says by phone from her current home in Jersey City. "That's where I got [Roald Dahl's] The Wonderful Story of Henry Sugar and Six More. I was an extraordinary reader when I was a child, as were most of my friends—and, I think, a whole generation of women. We were in a very weird position because there really wasn't anything called 'YA' then, and the fact that all of these novels existed was not anything our parents were paying attention to."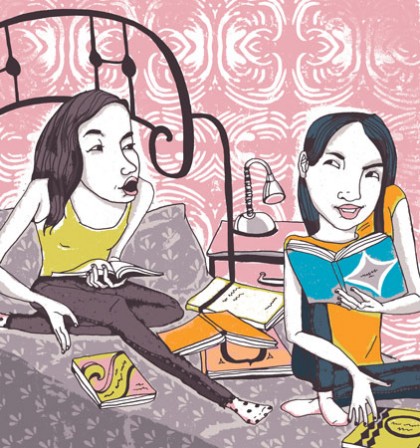 Kerr's 1977 novel I'll Love You More When You're More Like Me is one of seven titles Skurnick will reissue in September through Lizzie Skurnick Books, a new imprint from Ig Publishing. Skurnick, A&S '99 (MA), is a freelance book critic, part-time English professor, former Sweet Valley High series contributing writer, and an author. She talks about this era of young adult books with the contagious enthusiasm of a blues disciple who makes life feel utterly incomplete until Texas nightingale Sippie Wallace has been heard in all her glory. And she's spent a good part of her adult writing career exploring the books for young people published from the late 1950s through the 1980s as an overlooked literary era.
In 2007, she started the Fine Lines column for the startup website Jezebel, which founding editor Anna Holmes created as an intelligent, playful, and politically engaged update of a women's magazine. Skurnick's column—about rereading books such as Paula Danziger's The Cat Ate My Gymsuit, Judy Blume's Wifey, Elizabeth George Speare's The Witch of Blackbird Pond, Scott O'Dell's Island of the Blue Dolphins, Lois Duncan's Summer of Fear, and Julian F. Thompson's The Grounding of Group 6—was initially going to be light and funny. But she quickly discovered that the books required a more serious discussion of their themes and subject matter.
"We liked the writing because no one was yet talking about being a teenage girl," Skurnick says, noting that the books "were about family and divorce. We were living through parents getting divorces—and no one talked about this stuff yet. Even if [the books] were works of fiction and fantasy, part of the reason they're important is a lot of them were about women and power. A lot about domestic violence. A lot about sexism."
Katherine Paterson's Jacob Have I Loved is about twin sisters, one of whom is liked more than the other. It touches on one of the themes that Skurnick sees recurring in the novels. "So many of the books are about friendship," she says. "We think about girls and friendship and we think crafts and sewing and going to the movie theater and eating popcorn. But the women in our lives, they are really the most important relationships we have probably until we have children. Men are important, too, but it's not quite the same. It's not as complex. And [in these books] you have something going on that was probably more at the level of humor and complexity as [Lena Dunham's HBO] series Girls."
Skurnick's column took off, fueled in part by her zeal but also by her readers' responses. They started scanning book covers and emailing them to Skurnick. She introduced a section called Plotfinder where readers described the plots and covers of books whose titles and authors they couldn't remember and other readers figured out the identities. The columns were collected in Skurnick's book Shelf Discovery: The Teen Classics We Never Stopped Reading (William Morrow, 2009). And after about 100 columns she took leave of it, though she continued to talk about the books and post covers on her blog (theoldhag.com), if only to maintain her relationship with readers.
In 2012 Ig Publishing Editor-in-Chief Robert Lasner contacted her with a dream-job prospect: Would she like to edit a line of reissues of these books? Um, does Marcy Lewis hate her father, being fat, and her school in The Cat Ate My Gymsuit? Yes. Skurnick had come to know a few of the authors she would want to reissue from putting together Shelf Discovery; the rest she looked up in the phone book and called. That almost every one of the 20 authors she contacted agreed to her project isn't too surprising. Writers want to be read, and many of these books have long been out of print. And the person on the other end of the line was incredibly passionate about their work.
"This is actually something I've been working on since I was about 7," Skurnick says with a laugh. Now she's hoping that the women of her generation want to reread the books that helped shape the women they are today—and maybe a new generation of young readers might discover what first captivated their elders.