For Johns Hopkins graduates new to the district, the Washington, D.C., Young Alumni Committee serves as the welcome wagon. It maintains a dossier on the city called the "Manual to Living in Washington, D.C.," which offers information on everything from apartments and roommates to recreational sports leagues to local farmers' markets.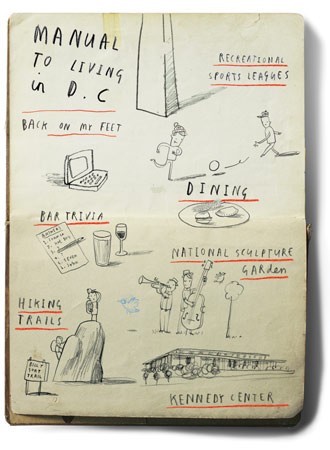 The committee also provides an opportunity for alumni looking for volunteer work in their new city. Since 2010, it has offered computer literacy classes to the members of Back on My Feet, a nonprofit that imparts confidence and self-sufficiency to homeless people through running, along with financial literacy classes and job-training opportunities.
Lee Ouyang, Engr '10, and Pierre Hage, A&S '10, both members of the D.C. committee, launched the computer literacy initiative in 2010. They ask volunteers to commit to one six-week training session at a time, in which they teach Back on My Feet members the basics of Microsoft Office, online job searching, and email. "My thinking has always been, we do have a lot of those social happy hour–type things, but it would be nice to have a component where we could say, 'You want to volunteer? Here's something simple,'" says Ouyang, who is the committee's service chair. "Most people in their jobs deal regularly with computers and have a good enough grasp to where they can teach someone who might not have been exposed to computers as much."
The list of volunteers now numbers 60, and the program has outgrown Back on My Feet's northwest D.C. headquarters, now also operating at the Rita Bright Family and Youth Center. Hage, who volunteered with the nonprofit as an undergraduate, says the committee is considering expanding the program, working with JHU young alumni committees in Boston, Baltimore, and other cities where Back on My Feet also has branches. In the meantime, the plan is to continue growing the successful program in the district. "A few of [the participants] have gotten jobs already," Hage says. "It may not always be a job where they use the skills [we teach them]—they may just use the skills to apply for jobs. Either way, we're glad to help."