In January, the Johns Hopkins community was saddened to learn of the death of President Emeritus Steven Muller, who served as president of the university from 1972 to 1990. He died from respiratory failure at age 85.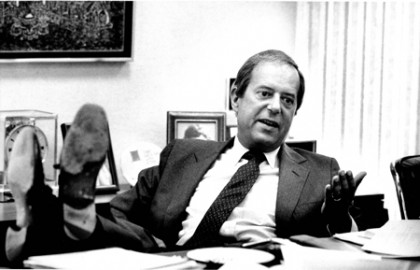 Muller's ascent at Johns Hopkins was extraordinarily fast. Hired as provost in 1971, he was selected by the board of trustees to be president a mere 10 months later. He was also president of Johns Hopkins Hospital until 1983; only Daniel Coit Gilman had held the presidencies of both institutions. Current Johns Hopkins President Ronald J. Daniels cited Muller as "a remarkable leader whose vision and determination enhanced dramatically the institution's national and global prominence."
The university's 10th president led a remarkable life. He was born Stefan Mueller in Hamburg, Germany, in 1927. Because he had a Jewish father, he was beaten by members of the Hitler Youth. In 1938, the family fled first to England then to the United States, where they settled in Los Angeles. As a young man, Muller appeared in seven Hollywood films, including The White Cliffs of Dover with Irene Dunne. Eschewing an acting career, he studied political science and politics at the University of California, Los Angeles, and the University of Oxford (where he was a Rhodes scholar), and earned a doctorate from Cornell University in comparative government.
As president of Johns Hopkins, Muller was instrumental in bringing Peabody Institute into the university, restoring the museums at Homewood and Evergreen, bringing the Space Telescope Science Institute to campus, establishing the Hopkins-Nanjing Center for Chinese and American Studies and the American Institute for Contemporary German Studies, creating the Zanvyl Krieger Mind/Brain Institute, and making the School of Nursing and the Whiting School of Engineering stand-alone divisions of Johns Hopkins.