David Menconi ("Slave Owned") is a Raleigh, North Carolina-based journalist. He has been the Raleigh News & Observer's music critic since 1991.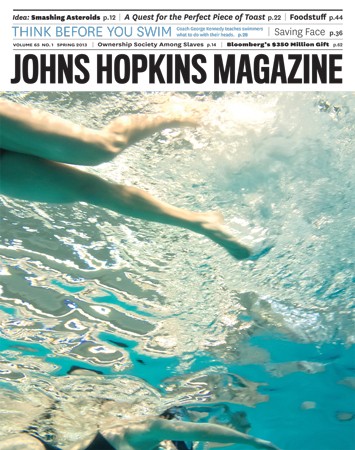 Kelly Brooks ("Psych Secrecy"; "Good News, With a Catch"; "Finance, Have You Met Economics?") is the editor of Johns Hopkins Nursing and a regular contributor to Johns Hopkins Magazine, NurseZone.com, and her favorite hometown magazine, The Frederick Gorilla.
Martha Rich ("From Farm to Plate to Policy," illustrations) is a Philadelphia-based artist with a self-described "penchant for painting food." Her commercial work has appeared in publications such as Bon Appetit, McSweeny's, The New York Times, and the San Francisco Chronicle, and she has shown her paintings in galleries across the country and internationally.
Andrea Appleton ("Now Comes the Hard Part") is a freelance writer based in Baltimore. Her work has appeared in The Christian Science Monitor, Grist, High Country News, and Baltimore City Paper, among other publications.
Rebecca Messner ("Something to Prove"), A&S '08, is a Baltimore-based documentary filmmaker and freelance writer. The former executive editor of Urbanite magazine, she is currently working as the production manager on a feature-length documentary about breast cancer.
Guido Scarabottolo ("The Smart Set," illustration) is an Italian-born graphic designer and illustrator. He has illustrated book covers for Italian publisher Ugo Guanda Editore for many years, and his advertising work has appeared in a worldwide advertising campaign for Salone del Mobile, the world's largest design fair.
On the cover
Christopher Myers photographed swimmers from the Blue Jays men's and women's teams for our cover story about longtime Johns Hopkins swim coach George Kennedy. This photo was shot underwater at the varsity pool in February. Myers' clients include the United States Olympic Committee, Harper Collins books, National Geographic Traveler, The New York Times, Baltimore magazine, and several other publications. His work is also in the collections of the Reykjavik Museum of Photography in Iceland and the Baltimore Museum of Art.