Philanthropist and New York City Mayor Michael R. Bloomberg, Engr '64, has committed $350 million to Johns Hopkins University, anchoring a major initiative aimed at bringing sweeping innovation to the educational approach at Johns Hopkins that will, in turn, serve as a model for U.S. higher education. The total commitment—the largest ever to the university—lifts Bloomberg's lifetime giving to Johns Hopkins beyond $1 billion.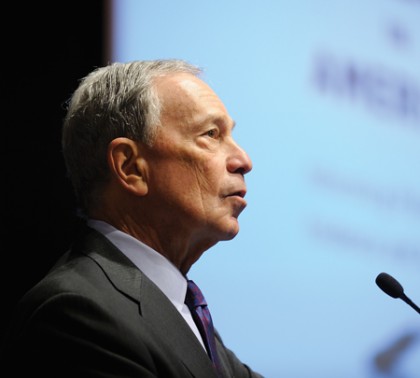 The majority of the new gift, $250 million, will be part of a larger effort to raise $1 billion to facilitate cross-disciplinary work across the university to galvanize people, resources, research, and educational opportunities around a set of complex global challenges. Initially, the funds will be used to support the appointment of faculty in the areas of water resource sustainability, individualized health care delivery, global health, the science of learning, and urban revitalization. The remaining $100 million will be dedicated to need-based financial aid for undergraduate students, ensuring that the most talented and most driven students are admitted to the university's classrooms, regardless of economic circumstance. In all, the gift will make possible 50 Bloomberg Distinguished Professorships and 2,600 Bloomberg Scholarships.
This transformational gift enhances Johns Hopkins' flexible and multidisciplinary approach to solving fundamental societal problems. It will bring together scientists and scholars from numerous disciplines—ranging from politics and policy, to health care delivery, to basic curiosity-driven research—to support more meaningful collaboration. The goal, simply put, is to make it as easy for faculty, staff, and students to work across disciplines as within them.
"This latest initiative allows us to greatly accelerate our investment in talented people and bring them together in a highly creative and dynamic atmosphere," university President Ronald J. Daniels said in a January announcement. "It illustrates Mike's passion for fixing big problems quickly and efficiently. It will ensure not only that Johns Hopkins helps to solve humanity's problems but also that it leads the world's universities in showing how it should be done."
"Each dollar I have given has been well spent improving the institution and, just as importantly, making its education available to students who might otherwise not be able to afford it," Bloomberg said in the announcement. "Giving is only meaningful if the money will make a difference in people's lives, and I know of no other institution that can make a bigger difference in lives around the world through its groundbreaking research—especially in the field of public health."
Bloomberg is believed to be the first person ever to reach the $1 billion level of giving to a single U.S. university and academic medical center. With this new commitment, Bloomberg has now given Johns Hopkins $1.118 billion in the 49 years since he graduated.