In January, Johns Hopkins University launched the new Science of Learning Institute, which will bring together researchers from across the university to study the way our brains learn and how educational programs and new technologies can maximize that process. Funded by a gift from an anonymous donor, the institute will be inviting proposals to fund interdisciplinary research activities, fellowships, and workshops.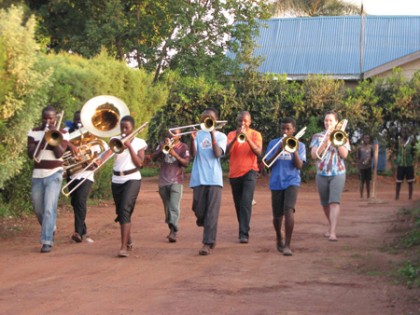 Speaking of research, the university performed $2.1 billion in medical, science, and engineering research in fiscal year 2011, making it the leading U.S. academic institution in total research and development spending for the 33rd year in a row, according to the latest National Science Foundation ranking.
Krieger School of Arts and Sciences anthropology Professor Jane Guyer was given the Distinguished Africanist Award by the African Studies Association last fall. Astrophysicists Brice Ménard and Charles L. Bennett were appointed to the Euclid Consortium, the international team of scientists overseeing a joint European Space Agency-NASA telescope project designed to probe the mysteries of dark energy and dark matter.
In December, three Peabody Institute undergraduates—trumpeter Emily Korth, French horn player Liz Fryer, and trombonist Frankie Yu—traveled with Amy Klosterman, Peab '91 (MM), to Uganda to share their skills with young musicians as part of The Uganda-Baltimore Alliance, otherwise known as TUBA, an organization Klosterman founded to bring instruments and instruction to young Ugandans. On two February Sundays, 11 students from musicologist Andrew Talle's class, The African-American Gospel Tradition in Baltimore, performed with the Divine Voices of Praise choir at Ark Church on East North Avenue in Baltimore. The gospel class will perform with the choirs of three other predominantly African-American churches in the Baltimore area this semester.
Krieger School senior Lay Kodama and Whiting School of Engineering senior Tiras Lin were both selected as Churchill Scholars by the Winston Churchill Foundation of the United States. The scholarship is awarded to 14 students nationwide who have demonstrated a capacity to contribute to the advancement of knowledge in the sciences, engineering, or mathematics by completing original, creative work at an advanced level.
Five Whiting School faculty members have received the National Science Foundation's prestigious Faculty Early Career Development (CAREER) Awards: Thao Nguyen, an assistant professor of mechanical engineering; Mark Foster, an assistant professor in the Department of Electrical and Computer Engineering; Margarita Herrera-Alonso, an assistant professor in the Department of Materials Science and Engineering; Rebecca Schulman, an assistant professor of chemical and biomolecular engineering and computer science; and Honggang Cui, an associate professor of chemical and biomolecular engineering.
Eliot Cohen, director of the Strategic Studies Program at the Paul H. Nitze School of Advanced International Studies, was named to Foreign Policy magazine's "100 Top Global Thinkers 2012" list, cited for "writing the GOP's foreign-policy playbook in 2012." SAIS' Center for Transatlantic Relations was named the No. 1 university-affiliated think tank in Washington, D.C., No. 5 in the United States, and No. 8 in the world in the University of Pennsylvania's 2012 Global GoTo Think Tank rankings.
Carey Business School Dean Bernard T. Ferrari's book Power Listening: Mastering the Most Critical Business Skill of All was named one of last year's 10 best business books by WealthManagement.com. Beth Comstock, chief marketing officer of General Electric, also quoted from the book in a piece she wrote for LinkedIn about the importance of listening.
A cross-divisional team of graduate students from the Carey Business School, the Bloomberg School of Public Health, and the Whiting School of Engineering took first place and $10,000 in the Biotechnology Conference and Case Competition held at Wake Forest in February.
The Daily Record named School of Nursing Dean Martha N. Hill to its 2013 list of 50 Influential Marylanders. Hill, who led the school to its current spot at the top of the U.S. News & World Report's list of graduate schools of nursing, earlier announced that she will retire as dean at the end of the academic year.
Isaac Kinde, a cancer researcher and MD/PhD candidate in the School of Medicine, was named by Forbes as one of 30 people under 30 in science and health care. Kinde's research focuses on improving the accuracy of DNA sequencing technology for use in detecting cancers. Three SoM researchers were elected as fellows of the American Association for the Advancement of Science: Linzhao Cheng, a professor in the Division of Hematology; Svetlana Lutsenko, a professor in the Department of Physiology; and Duojia Pan, a professor in the Department of Molecular Biology and Genetics. Neuroscience professors Solomon H. Snyder and King-Wai Yau won, respectively, the National Academy of Sciences Award in Neurosciences and the Alexander Hollaender Award in Biophysics, both awarded by the NAS once every three years.
The Burroughs Wellcome Fund awarded a $2.5 million grant to the School of Medicine and the Bloomberg School of Public Health. The award supports the Maryland Genetics, Epidemiology and Medicine program, which is administered jointly by the two schools, and will enable researchers to cross-train genetic epidemiologists and human geneticists simultaneously.
Bloomberg School Dean Michael J. Klag co-wrote, with George Washington University School of Public Health and Health Services Dean Lynn R. Goldman, an op-ed published in the January 7 issue of The Baltimore Sun, arguing that a fake vaccination program the CIA ran in Pakistan to assist in the hunt for Osama bin Laden had created mistrust for health care workers and threatened the global effort to eradicate polio.
The School of Education is launching a new full-time Doctor of Philosophy in Education program in the fall. The interdisciplinary PhD program is meant to prepare scholars to address challenges associated with improving pre-K-12 learning outcomes in high-risk school communities. In January, Dean David Andrews appeared before the state of Maryland's Senate Education, Health, and Environmental Affairs Committee and the House Committee on Ways and Means, responding to questions about education reform, focusing particularly on early childhood education and personalized learning.
The Applied Physics Laboratory is doing its part to improve education. In December, APL offered its first-ever Parent STEMpowerment Workshop, aimed to help parents of middle school students prepare their children for science, technology, engineering, and math careers. Representatives from Johns Hopkins, the Maryland State Department of Education, Northrop Grumman, Maryland MESA, and the University of Maryland were among the speakers and panelists. APL has also launched a website, jhuapl.edu/STEM, that provides STEM-related information, tools, and activities for students, teachers, and parents.