Kevin Smokler likes books, devouring them the way the rest of us might polish off a bag of Cheetos. He possesses, he says, "a ravenous appetite for culture." And he's determined to spread it around.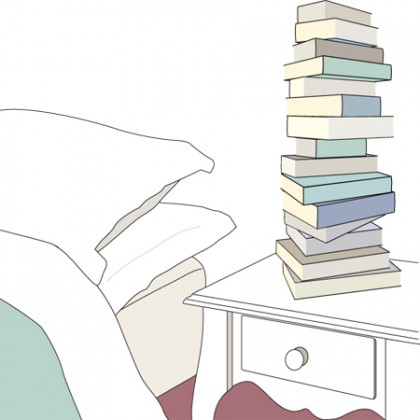 Smokler, A&S '95, is a San Francisco writer and speaker who specializes in a kind of cultural cheerleading, encouraging bookishness in a media environment that can seem increasingly hostile to the charms of the printed word. In 2005 he edited a collection of essays from young writers titled Bookmark Now: Writing in Unreaderly Times (Basic Books). His new book, Practical Classics: 50 Reasons to Reread 50 Books You Haven't Touched Since High School (Prometheus Books, 2013), argues that adult readers should dust off the paperbacks of their misspent youths and make room again for the likes of Huckleberry Finn, Atticus Finch, and Holden Caulfield.
The idea, he says, is to rescue these literary masterworks from the prison of hormone-addled high school-age readers. He wants to remove the "shiver of cultural coercion" that often ruins the experience of reading them the first time. "Great books," he declares in the introduction, "derive their greatness by speaking to us at the formative moments of our lives. We probably haven't had enough of those moments as teenagers to see them this way."
The project was inspired in part by such read-these-before-you-die lists as Clifton Fadiman's The Lifetime Reading Plan and Harold Bloom's The Western Canon, earnest tomes that were emblematic of a certain strain of postwar middle-class intellectual striving—"a time when reading great books was considered part of what it meant to live a good American life," Smokler says. But both, he thought, were in need of a digital-age reboot to embrace a more diverse—and more distracted—audience. "I thought, wouldn't it be cool to update this idea for the 21st century? Given how busy we all are, is there some reason to read great books besides being able to bow down before them and say, 'Aren't these great books?'"
So, over a 10-month binge, Smokler resolved to gather up and revisit the most-assigned works of literature, to see what they had to say to his 38-year-old self. In 50 brief essays, Smokler explores how chestnuts like Pride and Prejudice and Candide offer insights into adult emotions—disappointment, regret, nostalgia—that are likely to be lost on adolescents grimly plowing through the pages on the bus to field hockey practice or doodling in the margins during study hall. Until you've logged some years in a cubicle you're probably going to miss the sublime workplace absurdism of Herman Melville's Bartleby, the Scrivener, for example. And as a teen reader, Smokler never caught the current of grief and loss running through The Catcher in the Rye, or the fact that The Great Gatsby was written in the past tense, a eulogy to a Jazz Age that had already vanished when F. Scott Fitzgerald began writing.
Smokler was a Writing Seminars major at Johns Hopkins, and he later toyed with an academic career in graduate school at the University of Texas. But Practical Classics is more undergraduate bull session than formal criticism; he riffs on comic books and movies, breezes through Wikipedia-aided plot synopses and author bios, and generally comes across as a garrulous study partner, not a literary scholar. "That's not the kind of dialogue I have with my readers," he says. "I like to be the host at the party, not the expert."
To keep the party moving, Smokler followed a few basic rules. He solicited suggestions for titles both older and more recent than those assigned during his own Michigan prep school experience (Class of 1991, Greenhills School) because he didn't want the book to be a "time capsule of the George Bush Sr. years in America." Newer nonfiction writers like David Foster Wallace and Randy Shilts (whose And the Band Played On was a life-changing influence on Smokler as a Johns Hopkins undergrad) join this eccentric canon because he thinks future high schoolers will read them. He also kept it short, so The Crying of Lot 49, but no Gravity's Rainbow. "I just didn't have time to read Middlemarch or Crime and Punishment. I also had to keep my recommendations to books that had to be enjoyable to read. That eliminated a good number of contenders right off the bat."
Only one book seemed to have gained no virtues in the intervening decades: Nathaniel Hawthorne's The Scarlet Letter. Smokler declares it "a fussy, airless, boiled cabbage of a book, light on plot and heavy on community values that were already moldy when Hawthorne wrote about them." Still, he grits his teeth and manages a reluctant endorsement: Read it because it reminds you that, like anything worth doing, the act of reading isn't always fun and easy.
"It's hard to argue that something that's persisted hasn't beaten the odds, so it deserves our attention," he says. "That's a triumph of something."