This year, 38 alumni, faculty, and friends of the university received Johns Hopkins University Alumni Association awards. Among them: Irvin Nathan, A&S '64, attorney general of the District of Columbia; Audrey McCallum, Peab '60, '67, a pianist, music educator, and the first African- American to be admitted to Peabody; Karen Horn, A&S '72 (PhD), the first female president of a Federal Reserve Bank and a nationally recognized leader in economics; Solomon H. Snyder, HS '68, a pioneer in the field of molecular neuroscience and founder of the School of Medicine's Department of Neuroscience; and Neilesh S. Patel, Engr '03, a social entrepreneur, leader in global public health, and advocator for the welfare of children. They may work in vastly different areas, but what the award recipients have in common is a drive to advance their fields and, in many cases, the world.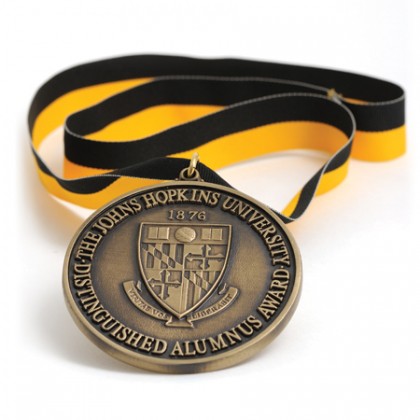 The Distinguished Alumnus Award, which was the first award category created by the Alumni Association nearly 50 years ago, is given to alumni who have exemplified the Johns Hopkins tradition of excellence and whose personal accomplishments, professional achievement, or humanitarian service have brought credit to the university. The award, says Howard Adler, A&S '72, chair of the Alumni Council Awards and Nominations Committee and a partner at Gibson, Dunn & Crutcher LLP, is for people who have really "hit it out of the ballpark with their career, whether it be medicine, law, or some field in which they have achieved outstanding professional success." Writer Russell Baker, A&S '47; business magnate and New York Mayor Michael Bloomberg, Engr '64; and journalist Wolf Blitzer, SAIS '72, are just a few of the past recipients. "The most challenging part of the process," Adler says, "is picking the very best from this group of elite contributors."
The other four Alumni Association awards are the Heritage Award, given to alumni and others who have contributed outstanding service over an extended period of time to the progress of the university or to the activities of the Alumni Association; the Woodrow Wilson Award, for alumni who are distinguished by their current or recent public service as elected or appointed officials; the Knowledge for the World Award, for alumni who have demonstrated professional achievement or humanitarian service in the international arena; and the Outstanding Recent Graduate Award, which goes to alumni who graduated within the last 10 years and have demonstrated outstanding achievement or service in their professional or volunteer lives.
If you know of someone who is deserving of a Johns Hopkins University Alumni Association award for 2014, submit your nomination by December 1. Nomination forms along with biographies of the 2013 award recipients can be found at http://alumni.jhu.edu/awards.