Blog: www.chinaafricarealstory.com
Favorite music: Loon calls on a dark lake
Worst close call: Catching a lift from Istanbul to Tehran with two guys who turned out to be car smugglers
Currently reading: Wolf Hall, by Hilary Mantel
Favorite comedy: My Cousin Vinny
Deborah Bräutigam is a professor of international development and comparative politics and director of the International Development Program at the Paul H. Nitze School of Advanced International Studies.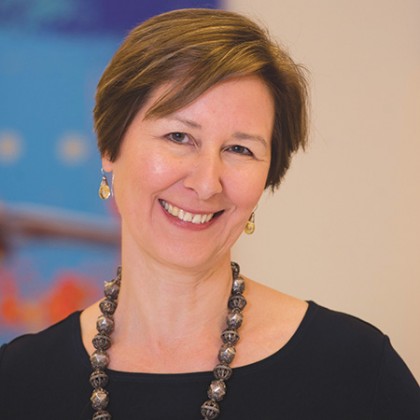 I've read that Bill Gates was so taken with your book The Dragon's Gift: The Real Story of China in Africa (Oxford University Press, 2010) that he wanted to meet you and discuss it.
Yes! He was traveling in China and wanted to talk with me about my research and about the work of his foundation. He clearly had read my book and asked a lot of very good questions. The dinner, which was supposed to be fairly short, lasted nearly three hours. As I said on my blog, if it had been a seminar, I would have given him an A.
Much of your work on your excellent blog is devoted to addressing misunderstandings and misperceptions about China's role in Africa.
There's a big gap between what people think they know about China in Africa and the reality. A lot of people think that China arrived in Africa recently, although they've been there since the 1960s. There's the assumption that Chinese firms won't hire African workers (not true) or that China's presence is a kind of "new colonial­ ism" (not true). Headlines get the number of China's embassies in Africa wrong (50, not 41), and the amount of aid and investment are regularly way overestimated. Everyone views China through his or her own lens. Many people assume China's presence is simply a gold rush or being driven by a land grab mentality, but, like ours, it's far more complex.
During the early era of the Non­ aligned Movement in the 1960s, China sent aid to a number of Africa's newly independent nations. Then, China's approach to aid was primarily cooperative rather than economic: providing assistance as part of the "socialist brotherhood" rather than building trade relations. But it was also political. Recall that the People's Republic of China was not admitted to the United Nations until 1971; many of the key votes came from African nations who had received aid from China.
Your new book project is called "Feeding Frenzy"—I take it that the title only partly refers to China in Africa?
Yes; I'm just back from doing field­ work in Zimbabwe and Zambia. The focus of this book is on the role of the Chinese in African agriculture and food security, the belief—for which there is very little evidence—that they are leading the "land grab" in Africa. That's the "feeding" part, but of course it has a double meaning. There is a kind of media "feeding frenzy," a fascination with what is seen as the "dark side" of the Chinese in Africa.
You are the director of the International Development Program. What does that involve?
IDEV has more than a hundred master's degree students in Washington and Bologna. I'm responsible for our curriculum and requirements, and I decide, with my colleagues, how to prepare students for professional careers that allow them to work creatively to help solve local and global problems: poverty, food security, inclusion. Our focus is on vulnerable populations—fragile states. And I'm still teaching. This year, my courses focus on governance and development strategies. Next year, I'll be adding a seminar on China and the developing world.
Did you always know you wanted to work in academia?
I come from a family of academics. I grew up in Wisconsin, where my parents were in graduate school. Both of my grandfathers were professors. And I always knew I wanted to travel. My grandmother's sister, Bethel Fleming, was a medical doctor and missionary who established a hospital in Nepal. Her husband, the ornithologist Robert Fleming, wrote Birds of Nepal. I was a British studies major in college and traveled around the world for nearly four years afterward, working in Jordan for several months, trying to learn Arabic and then traveling across Iran and Afghanistan to visit my relatives in Nepal. I lived in Thailand for a year and taught English. I spent a summer in Hong Kong to learn Chinese and I absolutely fell in love with the language. I moved to Taiwan for another year of intensive language study.
What do you do when you aren't writing, teaching, and traveling?
I used to spend serious time as a white­water kayaker, but lately I've been doing more hiking—and I actually manage to hike quite a bit in Africa. Last year, my husband and I hiked in the Drakensberg Mountains in the eastern part of South Africa. There are some absolutely beautiful trails.
Is there good white­water kayaking in Africa?
Yes, there are Class V rapids on the Zambezi River, but so far I haven't tackled them. The crocodiles and hippos complicate things!