Chicago: Their kind of town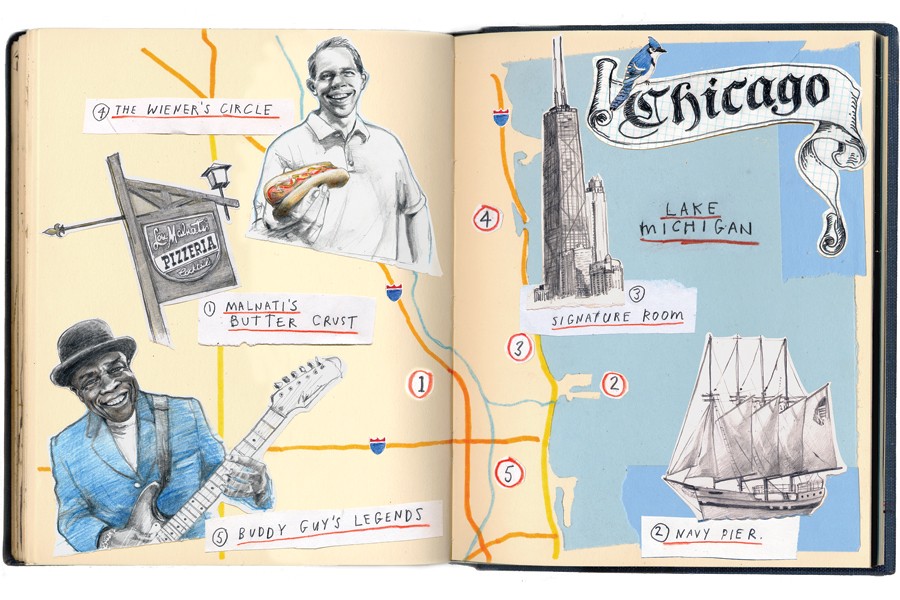 Priya Sunkara, A&S '08, moved to Chicago five years ago. The New York native says settling there was easier than she thought it would be. "It's still a Midwestern town even though it's a city," she says. "I call it user-friendly New York." The third-largest metropolitan area in the United States, Chicagoland— as the city and its surrounding suburbs are called—is also home to more than 1,900 Johns Hopkins alumni. Sunkara has gotten to know some of them as co-chair of the Young Alumni Committee, which organizes social gatherings at local hotspots. She, along with Chicago alumni chapter president Athena Abbott, A&S '90, helped put together this insider's tour.
The tour starts with the obvious: deep-dish pizza. One mainstay is Lou Malnati's (1), known for its butter crust; there are 30-plus locations in the Chicagoland area, including one on the Gold Coast, a few blocks from Navy Pier (2). The 3,300-foot-long pier is a favorite of tourists, who are drawn by such attractions as the 15-story Ferris wheel, the tall ship Windy, and the Smith Museum of Stained Glass Windows, which features 150 religious and secular windows, some attributed to such famed craftsmen as Louis Comfort Tiffany and John LaFarge. Abbott calls the Smith Museum a "hidden gem." To get the story on the city's famous skyline, travel along the Chicago River on a Chicago Architecture Foundation River Cruise. Or get a bird's-eye view from the nearby Signature Room (3) on the 95th floor of the John Hancock Center, which offers a stunning panorama of the city, as well as eats and drinks. "It's amazing," says Sunkara. "Tourist or not, I'd say it's definitely worth going there for a drink" —and in the summertime you might catch the twice-weekly fireworks display over Lake Michigan. Comedy fans will want to catch a performance at The Second City theater near Lincoln Park, where stars like Tina Fey, Bill Murray, and Mike Meyers trained. Afterward, head north about a mile to The Wiener's Circle (4) for a "char dog," or a charbroiled hot dog, as well as a dose of sassy banter from the employees. Cap the night off with a visit to blues club Buddy Guy's Legends (5). Founded in 1989 by electric blues master Buddy Guy, the place has live music every night and has seen performances by such greats as Eric Clapton, Stevie Ray Vaughn, and Dr. John.
You might also like
Trending