Gil Scott-Heron's posthumous The Last Holiday: A Memoir (Grove Press, 2012) showcases a man who explored his life through language. He recollects with the illustrative simplicity of the song- writer whose almost-spoken-word soul-jazz albums are now regarded as hip-hop forebears. His sentences crackle with the verbal brio of the poet who packed his verse with political awareness and irrepressible wit, and they flow with the confident drive of a novelist's captivating voice. All make The Last Holiday a frustrating page-turner: It's an improvisational snapshot of a fascinating life, but the candor displayed only makes what's left out feel like a missed opportunity.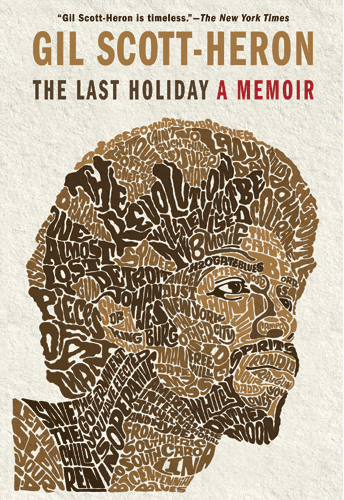 Perhaps that's because The Last Holiday didn't start as a memoir. Scott- Heron, A&S '72 (MA), started writing down the anecdotes that became the book in the late 1990s. According to the book's British publisher, Jamie Byng, Scott-Heron wanted to document Stevie Wonder's role in 1980-1981 as an advocate for observing Martin Luther King Jr.'s birthday as a national holiday. Byng writes that Scott-Heron reluctantly realized that in writing about Wonder he had to write about himself. The result is a frank and entertaining tale of American race relations from the 1950s to the 1980s seen through the eyes of a young man with a singular gift for preserving fleeting moments on the page.
He had a knack for capturing a moment's situational mirth. Few scenes crinkle lips into smiles like the author talking his way into the Johns Hopkins Writing Seminars graduate program: department founder and ordained Episcopal deacon turned poet Elliott Coleman sitting before the gregarious applicant, all 6-foot-2 of him—"plus 3 inches of afro." The Last Holiday is packed with such droll economy—but it ends long before the author's troubles begin. An August 2010 New Yorker profile revealed Scott-Heron, who passed away in May 2011, struggling under financial strain and drug addiction. But the artist behind the 1974 single "The Bottle"— which in The Last Holiday he confesses is an effort to say, "Look, here's a drunk and this is why he's an alcoholic, instead of just glossing over the problem"—never explores how he became a near recluse who kept a blow- torch within arm's reach for smoking crack. Scott-Heron routinely applied his sharpest criticisms to his own shortcomings in The Last Holiday, leaving every- thing that's unexplored echoing loudly in a book that sings so personally about life being a mix of appreciating the good and confronting the bad.