At 38 years old, editor, writer, and translator Lorin Stein, A&S'96 (MA),has one of the more enviable — and difficult — positions in contemporary publishing. It involves maintaining a storied publication that for 50 years was associated with one and only one witty and tirelessly sociable man. A publication that, despite its small circulation, is revered internationally for its dedication to publishing emerging novelists and poets. A publication where any major editorial changes will be scrutinized, and likely criticized, in cultural tabloids and literary circles. Stein is only the fourth editor of the Paris Review in its entire 59-year history. And since he took over in April 2010, he and his staff have had to continually defend why an old-fashioned literary journal remains relevant at a time when literary life is becoming more and more digitized.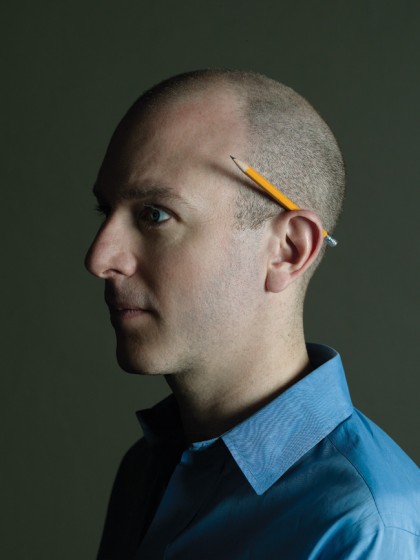 Founded in 1953 by a group of American expatriates, the Paris Review is the Manchester United of literary magazines — even people who don't know Louis Begley from Ed Begley Jr. have heard of it. Co-founder and first editor George Plimpton spent half a century as a walking advertisement for the publication, including locating its office downstairs from his Upper East Side Manhattan apartment. This spring, the Paris Review publishes its 200th issue.
Its attitude has always set the journal apart: It published writers it liked without funneling them through fashionable criticism that told readers what to think. As Gay Talese noted in a 1960 Esquire article, the Review "avoided using such typical little-magazine words as 'Zeitgeist' and 'dichotomous'" and instead focused on "poetry and fiction of gifted young writers not yet popular." It took writing seriously, running long Q&As in which authors discussed their craft and whatever else came to mind. It debuted portions of Philip Roth's Goodbye, Columbus, Samuel Beckett's Molloy, Jim Carroll's The Basketball Diaries, and Jeffrey Eugenides' The Virgin Suicides prior to those novels' releases. It published writers such as Adrienne Rich and V.S. Naipaul early on and championed iconoclasts like Harry Mathews and Terry Southern. Being published in the Review was a big deal, even though when Plimpton died in 2002, its circulation had hovered around 10,000 copies per quarterly issue.
That's not a huge number — Time magazine reported a circulation around 3.3 million in 2011, the New Yorker 1.1 million — but a dedicated readership supports the magazine. And while you preach to the choir to get it to sing, editors still have to find future readers. "What we need to do is keep faith with the people who love us, and grow so that we reach all the people who need us or want us," Stein says during a lengthy interview in lower Manhattan. Clad in an unwrinkled white oxford shirt and khaki corduroys, there's a hint of the effusive professor to Stein as he sits in a corner booth at a Tribeca brasserie. He's smart without being annoying, direct without seeming invasive, a reed-thin package of mellifluous engagement.
"We've got a ways to go before we do that, but the online thing —" Stein begins, and then changes tack for a moment. Yes, the "online thing" is the fact that publications have online presences these days. When the first issue under Stein's editorship, Fall 2010, hit newsstands, the Review also launched a revamped website featuring daily content. But for Stein, the online thing isn't merely recognizing the Internet as a distribution and marketing tool and potential revenue stream. There's a psychological element to technology that we all wrestle with as well. Stein brings up a book he's reviewing that includes an instant-messaging scene. It was a reminder, to him, that the digital age has changed how we experience life. People flirt via instant messaging. People break up via text. People tweet about people breaking up in public. The mundane stuff that forms the building blocks of human stories — you can Google that now.
"To not write about the encounter between reader and screen nowadays is, I think, to write pastoral or historical fiction," Stein says, an observation that online, life histories are collated timelines of status updates, comments, likes, and check-ins. The Review's online presence aims to complement how people interact with that world. "I think the question isn't so much whether to write in the first person, it's how to write in the first person," he continues. "The grown-ups, people older than us, may say that there's something trivializing and narcissistic about all this first-person writing, but I would say to them — I do say, it's not entirely a matter of choice."
"The grown-ups may say that there's something trivializing and narcissistic about all the first-person writing, but I would say it's not entirely a matter of choice."
Lorin Stein
Stein's career makes him quite suited to straddle literature's new and traditional media. He took over the Review after a celebrated stint at literary publishing house Farrar, Straus and Giroux, and his successful streak — he's worked with a number of the 2000s' most feted authors, including Denis Johnson and James Wood, and the Roberto Bolaño translations that made the Chilean novelist a posthumous cause célèbre — is one of many reasons he's become such a colorful character in media profiles. Journalists like to comment on his bespoke suits, his circle of literary friends, his party panache. His personal and social flair is the main reason he feels like a throwback to the literary characters — Plimpton, William Pène du Bois, Thomas H. Guinzburg, Harold L. Humes, Peter Matthiessen, and John P.C. Train — who founded the Review.
The Paris Review Daily, the journal's blog that runs sex advice, culture diaries, short fiction and poetry, interviews, the occasional video — in short, "a gazette of culture written in the first person about what our writers felt like writing," Stein says — is the most obvious way Stein and his staff have combined literary New York's past and present.
Maintaining reader loyalty while publishing new writing is a tricky tightrope to walk. "We don't need to find a mass market," Stein says. "The Paris Review needs to be trusted enough that you make the time [to read it] because we are always going to publish things that are a little bit spiky, a little bit outside one's comfort zone. We're a laboratory for fiction and poetry. And if you want to do that and not publish stuff that is easy to publish, then you really need to have a very strong identity [and] people need to trust that brand."
It's a brand that's competing in a very crowded marketplace. When Heidi Julavits penned "Rejoice! Believe! Be Strong and Read Hard!" in the March 2003 debut issue of the Believer, the literary magazine produced by Dave Eggers' McSweeney's tentpole, she invoked nearly a century of enthusiasm that has always launched and supported little magazines, going back to Jane Heap and Margaret Anderson's Little Review in the teens and Ezra Pound's celebrated 1930 "Small Magazines" essay. As conventional media's economic headaches and costs through the 2000s slashed mainstream media's attention to books and literary criticism, small presses and literary life thrived in the establishment's cracks. In 2004, the Council of Literary Magazines and Presses' executive director Jeffrey Lependorf told the Atlanta Journal-Constitution that literary magazines are where emerging writers get published now that few mainstream magazines publish fiction. That same year, the New York Times noted that there were more than 1,000 literary magazines being printed in America.
"Most of us spend our days in an enforced state of distraction, with nothing allowed to sink in. This
Review
is designed to sink in."
Lorin Stein
At the same time, digital literary magazines, journals, and blogs didn't just pick up the book reviewing and author interviewing slack created by conventional media. These sites became culture portals and online communities, whether litblogs (Jessa Crispin's Bookslut, author/essayist Maud Newton's personal website), literature magazines (Giancarlo DiTrapano's New York Tyrant, the Los Angeles Review of Books), or literary journals (Action Yes, Electric Literature, jubilat).
Today's Paris Review stands at the corner of ye olde newsstand and the e-reader. "There was a time when the main job of a little magazine was to put stuff out there that we wouldn't have found otherwise," Stein says. "Now that is not at all the job anymore. Now, it's recreating the experience of walking into a good bookstore or a good music shop or talking to someone whose tastes interest you. Without that, there's no point in having a little magazine anymore."
In the editor's note to the first issue he assembled, Stein praised the founders' efforts to find and publish "things they actually loved" and observed that even then this strategy was a "distinctly retro" throwback to the little magazines of the 1910s and 1920s. Stein continues to invoke that energy, lamenting that today's smart-set discussions are more concerned with politics and the economy than literature. Ceding that the Review staffers are continually asked if a literary print journal can survive in the Internet age, Stein wrote: "The real question is not whether journals can survive in some imagined future, but what we ourselves want and need. And when have we needed a great print journal more? Most of us spend our days in an enforced state of distraction, with nothing allowed to sink in. This Review is designed to sink in."
Thus far, Stein's approach has been rewarded. He reports that as of the end of 2011, print subscriptions are up 26 percent, with a total circulation of 17,000. In 2011 the Review received its second National Magazine Award, in reviews and criticism, for John Jeremiah Sullivan's "Mister Lytle: An Essay." Its online analytics are even more robust. In addition to revamping the website, Stein made the Review's entire interviews archive freely available online. A digital subscription via iPad app was offered in summer 2011. Website traffic is up 526 percent, with 630,000 monthly page views, 181,210 Twitter followers, 6,891 Tumblr followers, and 19,905 Facebook friends. Not a bad showing for the guy who was asked by the Paris Review board, as part of his interview process, to prepare a new media memo because its members were convinced this young book editor knew nothing about the Internet.
Stein's quiet confidence may recall Plimpton and the men who founded the magazine, but he doesn't share their establishment backgrounds. He's a middle-class young man now leading a prestigious little magazine, one of those projects often supported by affluence's benevolence. And you get the impression that what guides Stein is a genuine enthusiasm for art that emotionally connects with him. Yes, he has a business plan and pragmatic understanding of what he needs to do as editor, but that is all in the service of the magazine's content.
And he wants the Review and its staff to find and publish writing that touches readers viscerally. "In terms of job satisfaction, editing is wonderful because people go off and are brilliant after you have a phone conversation," Stein says. "It's like being a shrink whose clients all get happily married after one session."
Sometimes that writer-editor relationship is a bit like therapy. Stein mentions a conversation he had about young novelists having difficulty representing the interface of the encounter between reader and screen — how to capture that relationship on the page. Stein advised not to worry about how it looks and instead explore how it feels — a simple reminder that while how we interact with each other may change, the questions that fiction and poetry ponder persist. "The interface doesn't interest me as much as its effects on us, because in the end we're not going to die online," Stein says. "We die in the world. This is where our lives happen."