A dozen years ago, Beth Sloand, SPH '07 (PhD), stepped from an overcrowded jitney into the sweltering heat of Haiti and a profoundly new reality. She'd put down at the health clinic in Leon, a remote mountainous village a little to the south and about 250 miles west of the capital city of Port au Prince. Leon contained only three buildings of any notable size, one of them being St. Paul's Catholic Church. In the 1980s, it was among a number of churches in Haiti that had been "twinned" with parishes in the United States, St. Paul's having been made sister parish to St. Francis of Assisi in Derwood, Maryland. Over the years, the relationship evolved to include mutual prayer support and solidarity, financial support of the St. Paul's parish and school, and medical missions to Haiti three times a year. Although not affiliated with St. Francis, Sloand, a pediatric nurse practitioner and an assistant professor at the School of Nursing, learned about the medical missions and became a regular volunteer on the trips. On a trip to Haiti in 2003, one of the St. Francis parishioners who happened to be helping out was Brent Hanson.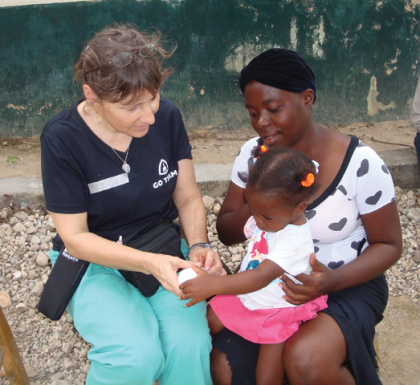 Sloand and Hanson met on that trip and struck up a lively conversation across the intersection of the medical and faith communities. Both saw the suffering of the Haitian people due to the lack of health care services and understood the need for many more volunteers. Sloand also saw an opportunity for Johns Hopkins nursing faculty, undergraduates, and graduate students to learn as they worked in Haiti. She understood from firsthand experience the scope of medical and economic need among rural Haitians. After their first chance meeting, an arrangement soon evolved. Hanson, a member of the School of Nursing's national advisory board, would help underwrite expenses for the school's participants; Sloand would coordinate the effort.
It was not long after that initial meeting that Johns Hopkins graduate nurse practitioners and public health nursing students began heading to the Leon clinic. Sloand and her colleagues have also partnered with the Haitian Health Foundation in the nearby town of Jérémie, where public health undergraduate students from Johns Hopkins have regularly participated in local health programs. Since the program started, approximately 170 Johns Hopkins faculty and students have traveled to Haiti, treating thousands of patients.
One participant, Anthony Pho, Nurs '08, '11 (MSN/MPH), joined the second Johns Hopkins Go Team—a trained group of Johns Hopkins disaster medical experts—sent to Haiti to help following the catastrophic 2010 earthquake. "The simple expression of appreciation in light of so much personal loss and physical pain was profound for me," says Pho of his experience assisting victims. Sloand, meanwhile, was heading back to the United States after serving in Port au Prince with the first Go Team. In that capacity she was able to make good use of her dozen-year affiliation with the people of Leon; her extensive knowledge of Haiti—including a serviceable grasp of the local Creole dialect—meant she was quickly enlisted to coordinate the nursing staff and proved to be one of the team's most eloquent and soughtafter spokespeople.
The disaster reconfirmed a sense of purpose shared by Sloand, Hanson, Pho, and their colleagues to continue their work in Haiti. Although Jérémie and the southwest were not hit hard physically, the area has since absorbed many internal refugees, further straining health care in the region. Sloand continues to seek assistance wherever she can find it. Even her running club, the Baltimore Pacemakers, has contributed, collecting hundreds of shoes for children and adults who often must walk for miles to obtain medical treatment. Sloand says that once seen, the people and the possibilities of the Western Hemisphere's most impoverished country can never be forgotten. Blogging about the February 2010 trip, she wrote: "At the end of a visit, you leave Haiti. But Haiti doesn't leave you."
Needed Nurses
National audiences tuning in to Dick Gordon's The Story on American Public Media in early January heard a three-part series on life in Haiti two years after the earthquake, including one segment based on a day in the life of the first baccalaureate nursing school in Haiti, FSIL, the Faculté des Sciences Infirmières de l'Université Episcopale d'Haiti, founded in 2005 by nursing alumna Ruth Barnard, Nurs '58 ["Training Nurses Where They're Needed," Alumni News and Notes, Winter 2010]. FSIL nurses played an important role in combating the cholera outbreak that followed the 2010 earthquake and are helping to advance and professionalize Haiti's fledgling medical services. "The school has revolutionized nursing in Haiti," says Barnard proudly of the school's 60 graduates to date.