JHU Forums on Race in America
Six Months After Maria:
Public Health Issues in Puerto Rico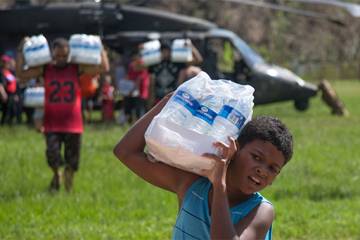 March 27, 2018
7–9 p.m.
Sheldon Hall, Bloomberg School of Public Health
Puerto Rico's already vulnerable infrastructure was exposed after Hurricane Maria in September, and now debris, structural damage, environmental threats to water sources, and drug shortages are just some of the areas of concern. This panel will explore the historical and economical context, the mental health issues sparked as a result of the hurricane, and current grassroots efforts.
Moderator Yonaira Rivera, a PhD candidate at the Bloomberg School of Public Health and founding member of Puerto Rico Stands, will lead a discussion with:
Juan Giusti-Cordero, professor of history, University of Puerto Rico
Marietta Vazquez, associate professor of infectious disease and a leader for grassroots relief efforts, Yale University
Antonio Trujillo, associate professor of health economics, Johns Hopkins Bloomberg School of Public Health
Attending the event
Space is limited; please register in advance
About the series
The JHU Forums on Race in America were established in spring 2015 to inform and expand the discussions that were ongoing in the university's classrooms, workplaces, and public spaces: discussions about racial equality, divisions in our society, and the toll of institutionalized racism.
The series began with urgency at a time when turmoil in U.S. cities, including Baltimore, was shining a light on these issues. Since then, the forums have built on that awareness to engage thousands of audience members in person and online on topics such as race and drug policy, intersectionality and activism, Latino identity, and black social justice movements.
The offices and organizations that sponsor the series are pleased to continue the community dialogue as we pursue our commitment to diversity, community service, inclusion, and academic freedom.