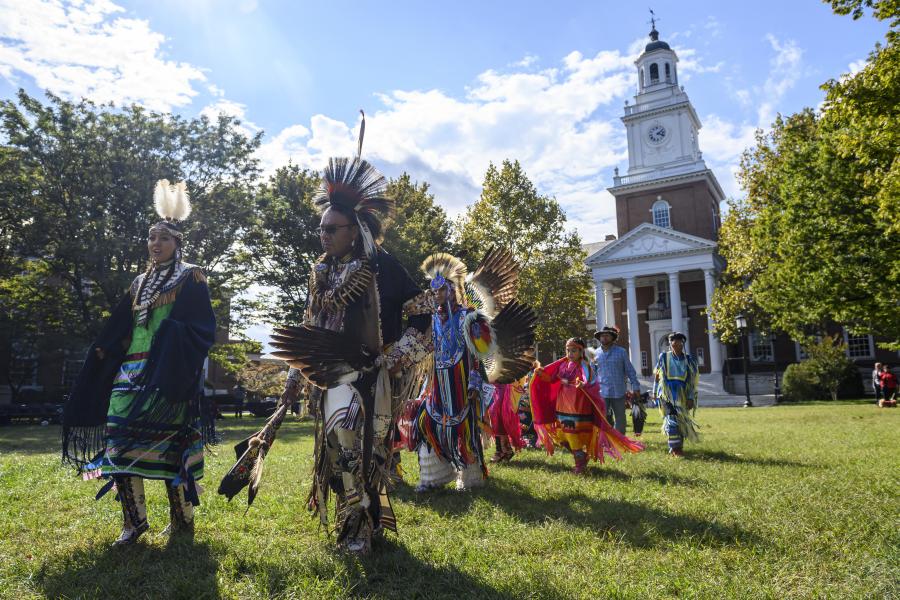 Campus powwows held in celebration of Indigenous Peoples' Day
Festivities celebrating Indigenous strength and successes at Hopkins and beyond were held at the Homewood campus and the School of Nursing
By Hub Staff Report
/
Published
Oct 10, 2023
It was a sunny, crisp fall day as the Johns Hopkins community gathered on Keyser Quad on the Homewood campus for the university's fifth annual Indigenous Peoples' Day powwow. Master of Ceremonies Dennis Zotigh (Kiowa/Ohkay Owingeh Pueblo/Isante Dakota Indian) noted that many of the powwows he recently hosted had been rained out—but not this one.
"The Creator is with us today," he announced as the ceremony began.
Indigenous Peoples' Day began in South Dakota in 1989 as an alternative to Columbus Day, a means of celebrating indigenous people's resilience rather than the colonizers who displaced them. In recent years, Indigenous Peoples' Day has all but entirely eclipsed Columbus Day, with President Joe Biden furthering the movement by declaring a presidential proclamation for the day in 2021.
At Johns Hopkins on Monday, the Office of Multicultural Affairs in the Center for Diversity and Inclusion hosted tribes from across the Americas to celebrate with intertribal dancing, indigenous arts and crafts, and a shared meal. Speakers at the event included Issac Hollins, assistant director for Multicultural Affairs; Charles Lu, associate dean of CDI; Victoria O'Keefe (Cherokee and Seminole Nations of Oklahoma), associate professor at the Bloomberg School of Public Health and chair in Native American health; and Tyrone Peterson (Navajo and Pascua Yaqui), who earned his master's degree in public health from the Bloomberg School in 2023.
Peterson, who helped CDI organize the event, has been participating in powwows his entire life. Formerly the director of powwows at the University of Iowa, Peterson understands the importance of Native American representation on college campuses.
"There aren't many Native students at respected, prestigious institutions like Hopkins, and so I think it's great to see representation," he says. "I am the profile of a Navajo man, and so when native youth see me, I want them to be inspired to attend Hopkins or to [attend] any educational institution without thinking that they're not good enough. Their heritage alone makes them resilient—that should be motivation enough for them to succeed."
As the Homewood event took place on Monday, the School of Nursing hosted its own celebration with similar festivities hosted in partnership with the Baltimore American Indian Center, Native American Lifelines, and Maryland Commission on Indian Affairs.
The School of Nursing event included remarks from Teresa Brockie (White Clay [A'aninin] Nation) and Dean Sarah Szanton, and a land acknowledgement from Schirra Gray, a member of the Piscataway Tribe.