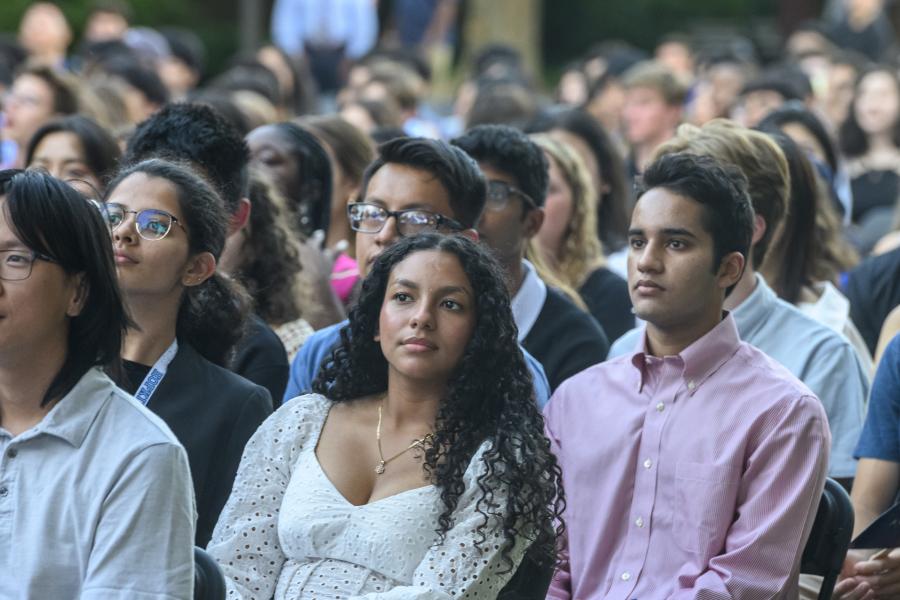 Johns Hopkins formally welcomes the Class of 2027
JHU President Ron Daniels tells students embracing differences is 'essential to a vibrant academic community'
By Hub staff report
/
Published
Aug 29, 2023
During the university's annual Convocation ceremony, JHU President Ron Daniels encouraged transfer students and members of the Class of 2027 to embrace their differences of opinion to grow together as a community of scholars.
"In your classrooms and practice halls, in locker rooms and labs, you will come up, almost certainly, against viewpoints and opinions that are dramatically different from your own," Daniels said. "I urge you to listen to those opposing perspectives and grapple with new evidence; to have your ideas changed by the views and experiences of others; and to allow your experiences and views to inform those of your peers.
"Perhaps you will persuade them. Perhaps they will persuade you. Perhaps you will both arrive at a new position you could not have even imagined. Or perhaps you will simply agree to disagree, which is just truly okay in a university community. The more you do this, the more likely you are to overcome the polarizing effects of our society (and our own minds), and to arrive at places of mutual respect and understanding that will help you chart new ways forward. And doing this should not occur at the expense of your own deepest beliefs, but in the spirit of testing, examining, and enlarging the scope of those beliefs alongside others and in light of the best available evidence."
The twilight ceremony on Sunday, Aug. 27, took place outdoors on Keyser Quad of the university's Homewood campus, marking the official beginning of a student's academic journey at Hopkins. It's also their first formal introduction to each other.
Read the president's full remarks online.