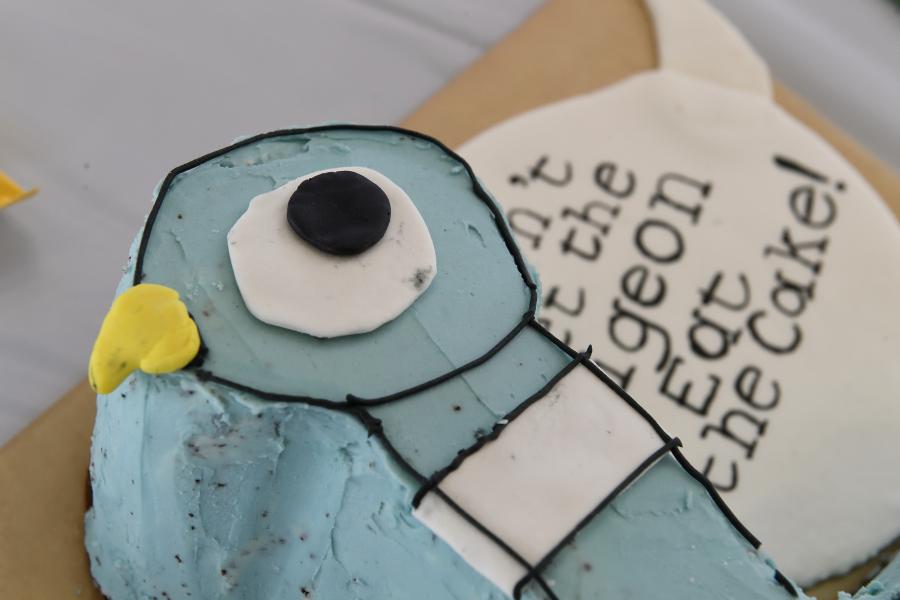 Sweet time had as Edible Book Festival returns to Homewood
The literary-meets-culinary celebration of desserts inspired by books, characters, or authors was held in person again for the first time after a pandemic pause
By Brennen Jensen
/
Published
April 4, 2023
Students who were a little fidgety in their Monday afternoon classes might have been buzzing from sugar and creative inspiration after attending the Sheridan Libraries "Read It and Eat It" Edible Book Festival which kicked off April 3 at 12:30 p.m. Sponsored by the Winston Tabb Special Collections Research Center, it brought 50 book-inspired desserts to the Glass Pavilion. Attendees could vote on their favorites in various categories covering artistry and edibility.
This literary-meets-culinary celebration featuring desserts inspired by books, characters, or authors has been a popular campus tradition since 2014. Canceled by COVID in 2019, and run virtually the past two years, it was once again a case of being able to see the cakes and eat them too.
"It's so wonderful to be back because you actually get to see the edible books in person, smell them, eat them, and hear the stories that the students have about bringing their edible books over here," says librarian Heidi Herr, one of the event's principal organizers. "For instance, someone created Dante's Purgatorio out of cream puffs, and had to figure out how to transport it. And they realized caramel drizzle was all that was needed to get the cream puffs to stick together."
The humanities and engineering working in tasty harmony.
A pair of artists are credited with creating the first edible books festival around 2000. It has since ballooned internationally, with scores of festivals held on or around April 1 (the "perfect day to eat your words," a festival handout explains). Students, staff, faculty, and alumni can enter, and this year's offerings ran the gamut from whimsical—two versions of the picture book Don't Let the Pigeon Drive the Bus—to the macabre: a cake take on Poe's The Tell-Tale Heart complete with bloody body under the floorboards.
Perhaps the most "Hopkinsy" entry came from Computer Science PhD candidate Elizabeth Salesky who made a coffee cake version of Neural Machine Translation, written by her adviser Philipp Koehn, professor in the Department of Computer Science. What's more, she used a neural network (Google's Bard AI) to create the recipe. "We prompted it that we have a festival themed around books and I am a grad student who really likes coffee," Salesky says. "Can you suggest me a recipe featuring coffee for a cake?"
While cakes dominated, cookies, Hallah bread, and even Jell-O were on hand. And then there was also a certain chocolate peanut butter pie decorated with a depiction of a principal character in Kathryn Stockett's novel The Help. Created by LaVera Jackson, a grants and contracts specialist for the Bloomberg Center for Physics and Astronomy, it claimed a prize for funniest entry. And if you read the book or saw the 2011 film version starring Viola Davis and Octavia Spencer, you know what's funny/cringey here. "It's totally safe to eat," Jackson said with a laugh. "Nothing but chocolate and peanut butter."
A list of this year's winners is online at this link.