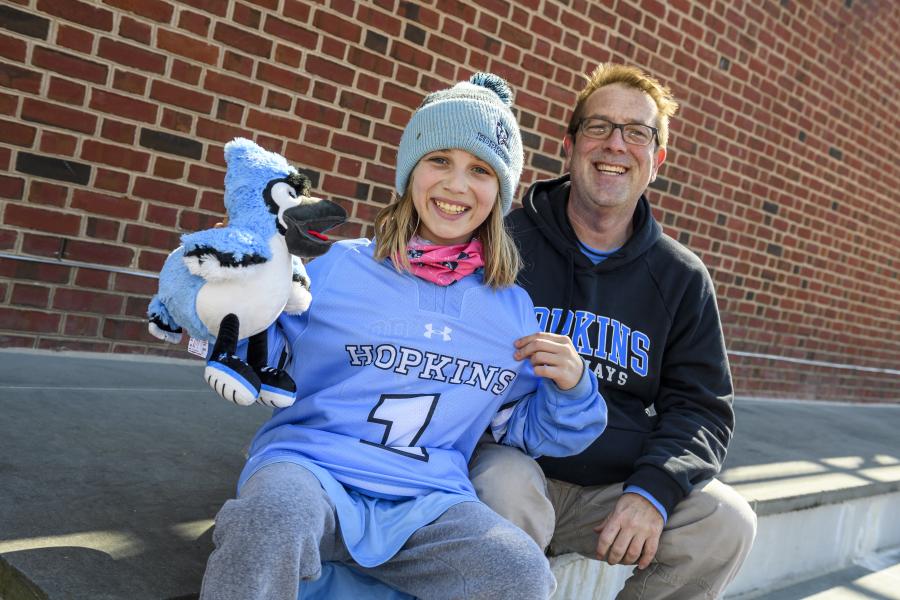 Family fun scores big at Hopkins Athletics Day
The first annual event brought the Hopkins community together to support the university's athletic teams
By Hub staff report
/
Published
March 7, 2023
The first Hopkins Athletics Day brought students, faculty, staff, and their families to Homewood Field on March 4 to cheer for the Johns Hopkins men's lacrosse team as the Blue Jays competed against Saint Joseph's University.
Sponsored by the Office of Economic Development and Community Partnerships and Hopkins Athletics, the event aims to bring awareness to the athletics programs and recreation facilities at Johns Hopkins while increasing attendance at games and matches.
More than 900 attendees enjoyed family-friendly fun before and after the lacrosse game, including Jenga and cornhole, food vendors, free t-shirts, and tours of the O'Connor Recreation Center, as well as coveted photo opportunities with Jay. The alumni-owned company Squishables also donated pint-sized plush Jays to take home. The game ended in a 15-14 Blue Jays victory.