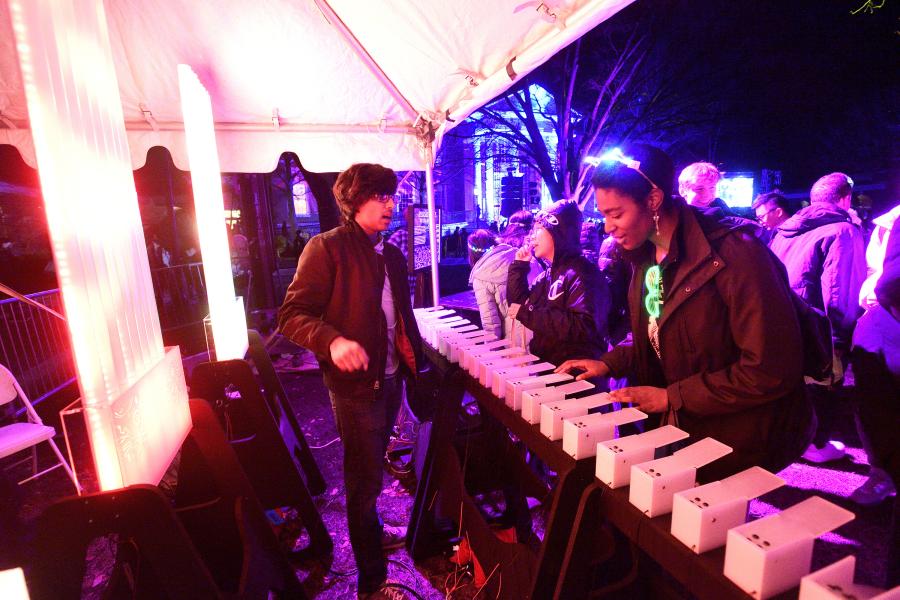 A delightful celebration
The 18th annual Lighting of the Quads celebrates the end of the semester with a fireworks show and light display
By Hub staff report
/
Published
Dec 14, 2022
After being rescheduled from its original date due to inclement weather, the long-awaited 18th annual Lighting of the Quads took place Tuesday night at Homewood, bringing the Hopkins community together to commemorate the end of the semester and the beginning of the holiday season.
The gathering featured an interactive light organ, a fireworks show, games, music performances, and more, as Keyser Quad was transformed into a photogenic winter wonderland.
"It is truly wonderful to take part in this beloved Hopkins tradition together and in-person," JHU President [Ron Daniels said, "and to see all of you and celebrate the final push of what has been a truly extraordinary semester here at Homewood."
Daniels also shared some festive news for next semester—the Johns Hopkins Ice Rink, which debuted last winter at Homewood, will be open again this year starting on Jan. 13. More information about the ice rink, including details on how to register for skating sessions, will be shared in early January.
Lighting of the Quads is hosted by Leadership Engagement & Experiential Development and supported by the Hopkins Parents Fund and the Johns Hopkins Alumni Association.