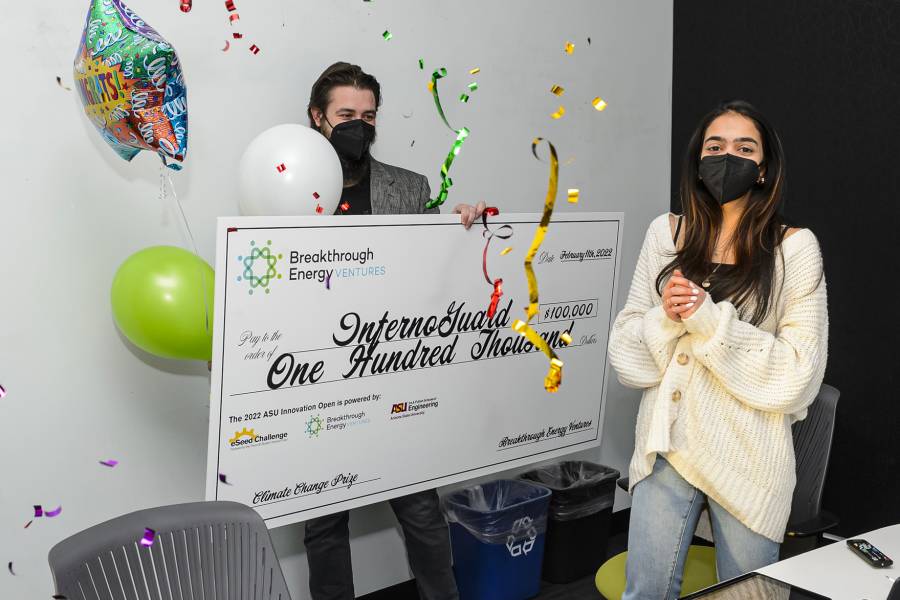 Two from Hopkins claim major prizes at pitch competition
Sophomore Nandita Balaji won a $100,000 grand prize and graduate student Casey Grage took home a $50,000 Human Health prize during the Arizona State University Innovation Open
By Hub staff report
/
Published
Feb 14, 2022
When Johns Hopkins sophomore Nandita Balaji returned to her residence hall Friday evening, she and her company were $100,000 richer. The neuroscience major is the founder of InfernoGuard, an early wildfire detection and warning system, and she took one of two grand prizes in the 2022 Arizona State University Innovation Open, a business pitch competition that included 32 teams from 20 universities.
InfernoGuard uses a network of mounted sensory devices to continuously gather and analyze environmental data to detect an oncoming wildfire. The devices then notify first responders and local citizens of impending fires. The fledgling company recently was awarded $15,000 from FastForward U's Fuel accelerator, an incubator focusing on customer acquisition, marketing development, entrepreneurial finance, investor readiness, team-building, and other late-stage venture needs. The company won the Climate Change Grand Prize funded by Breakthrough Energy Ventures.
"It's insane! It doesn't feel real," Balaji said during the awards presentation hosted at FastForward U's Remington location. "We're so excited for where this money will take us. It will allow us to scale up deployment, continue product development, and protect landowners from upcoming wildfire seasons. We wouldn't be here without our team who has been working together since the first year of high school and are now at Northwestern, Lehigh, and Wake Forest. We wouldn't be here without our support from programs such as FastForward U at JHU, the Garage at Northwestern, the Baker Institute at Lehigh, and others."
Casey Grage, a graduate student in the Applied and Computational Math program of Engineering for Professionals in the Whiting School of Engineering, also won a $50,000 Human Health prize from ASUio for her product Hubly Surgical, a cranial and orthopedic electric drill system designed to streamline bedside intracranial access and decrease operating room reliance. She is currently a member of the Fuel accelerator at FastForward U.