Ethel's Place: Celebrating Ethel Ennis, Baltimore's First Lady of Jazz
Who can attend?
General public
Faculty
Staff
Students
Contact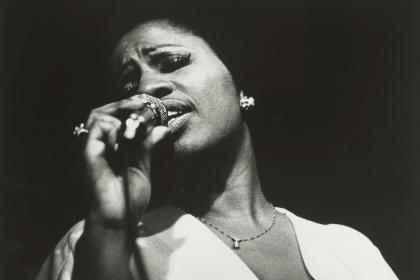 Description
Devoted to Baltimore vocalist Ethel Ennis (1932 – 2019), this landmark exhibition explores each era of the singer's remarkable life—including Ethel's Place, the storied music club she owned with husband Earl Arnett. Featuring some 130 items drawn from the Johns Hopkins Sheridan Libraries' Ethel Ennis and Earl Arnett Collection, the photographs, posters, unpublished written arrangements, audiovisual recordings, business records, and other materials on display trace how Ennis connected with local and international audiences through her artistry and personal philosophies and consciously pioneered a musician's career path deeply rooted in her hometown.
The exhibition is organized by the Johns Hopkins Sheridan Libraries in collaboration with the Billie Holiday Center for Liberation Arts at Johns Hopkins University. It is made possible in part by the Mellon-funded Inheritance Baltimore program, with generous support from the Friends of the Libraries Sheridan Society and Robbye and Kevin Apperson.
Who can attend?
General public
Faculty
Staff
Students
Contact