Innovations in Tobacco Control Lecture Series: Jonathan M. Samet
Who can attend?
General public
Faculty
Staff
Students
Contact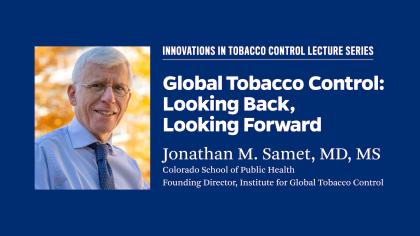 Description
Jonathan M. Samet, the founding director of the Institute for Global Tobacco Control (IGTC), will give a talk titled "Global Tobacco Control: Looking Back, Looking Forward" in celebration of 25 years since the institute's founding. This is a hybrid event; please choose your preference when registering.
The lecture will be followed by a brief moderated Q&A and a recording of the event will subsequently be posted to IGTC's YouTube channel. For accessibility accommodations, please contact Scott Klein at sklein1@jhu.edu or 410-614-1550.
The event kicks off IGTC's 2023-24 Innovations in Tobacco Control lecture season, welcoming key researchers and experts to share ideas, present their work, and spark discussion.
Who can attend?
General public
Faculty
Staff
Students
Contact