Elijah E. Cummings Democracy and Freedom Festival 2023
Who can attend?
General public
Faculty
Staff
Students
Contact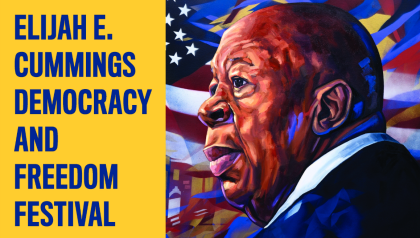 Description
Join the SNF Agora Institute for the third annual Elijah E. Cummings Democracy and Freedom Festival—a free event bringing together scholars and practitioners from across the country to join with the Johns Hopkins and Baltimore communities as we grapple with some of the most urgent challenges facing democracy, model civic engagement across divides, and celebrate democratic resilience and opportunity. 
Through this year's theme, "Cities and Citizenship," we will be exploring questions about the challenges cities face at the front lines of democracy and the innovations they are making to strengthen local engagement. The festival also includes an art installation by Globe Collection and Press, music by DJ Mebaa, and a dinner hosted by The People's Supper.
All programming takes place at the Reginald F. Lewis Museum. Johns Hopkins students can take advantage of a free shuttle to and from the museum.
Who can attend?
General public
Faculty
Staff
Students
Contact