Canons Away!—A Wikipedia Edit-a-Thon
Who can attend?
General public
Faculty
Staff
Students
Contact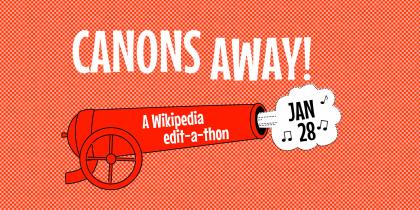 Description
Join the Hopkins Symphony Orchestra and the Arthur Friedheim Library at the Peabody Institute for "Canons Away—A Wikipedia Edit-a-Thon" that will help expand the canon in orchestral music. Our editing focus will be historically underrepresented composers and performers across history.
Event organizers and other Wikipedia pros will provide training and technical help if you're a first-time editor throughout the event.
Registration includes snacks throughout the day, swag, and the knowledge that you are changing how the world learns about the classical canon.
Who can attend?
General public
Faculty
Staff
Students
Contact